UAS Oblique Imagery Helps in Design and Monitoring of Projects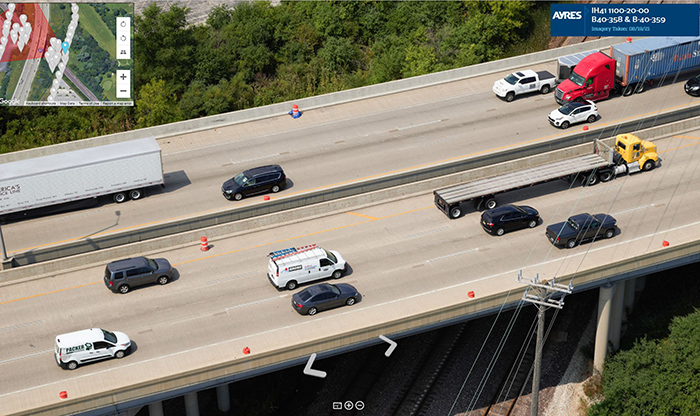 By Paul Crocker
Drones have revolutionized managers' ability to collect updated imagery for project design and construction monitoring. While the standard nadir (straight down) imagery and lidar is commonly used for topographic mapping and planimetrics, oblique imagery is another valuable option to build a complete picture of the project site.
About the Expert:
Paul Crocker, an FAA-certified UAS pilot with more than 20 years of GIS experience, manages Ayres' UAS program. Paul performs and oversees UAS missions, coordinates UAS pilots and equipment, oversees training, and performs quality assurance/quality control. He maps out strategies to meet clients' data needs and connects clients with experts from Ayres' many disciplines to meet any additional needs.
How Does Oblique Imagery Differ From Nadir Imagery?
Ayres' unmanned aircraft systems (UAS) platforms collect oblique and nadir imagery to support the production of high-resolution, photogrammetrically accurate oblique imagery, video, and 3D models.
Nadir imagery provides an accurate top-down representation of features on the ground. It's often delivered as an orthomosaic created by stitching together multiple overlapping images. In contrast, oblique imagery involves capturing drone images of a site from an elevated position but from the side. This perspective has proved useful for addressing challenges encountered on many project sites and serves a different purpose from a traditional orthomosaic. Nadir and oblique imagery complement each other well as a source for updated data.
What Challenges are Overcome With Oblique Imagery?
Timely oblique imagery is an efficient way to provide area-wide reconnaissance for managers, supervisors, and foremen. With planning, the imagery can include as much detail as necessary, and this can reduce the need for remote team members to travel to the project site.
Oblique UAS imagery is also an excellent option for mitigating the risk of putting personnel in hazardous areas. Busy highway corridors, projects near railroad or utility corridors and dam spillways are candidates for taking high resolution oblique imagery from a safe distance. Other examples include steep, unstable slopes and busy construction sites.
In addition, oblique imagery can easily be scheduled for collection at convenient time intervals to show construction progress. It can also help to document encroachments into environmentally sensitive areas on projects or the condition of erosion control facilities, provide valuable context to design professionals by showing how existing conditions and challenging environments just outside the project limits can influence or affect the design solution; document One Call utility marking status and provide clarity in areas where utility markings are confusing and congested; and offer an objective and impartial source of information when resolving adjacent landowner conflicts.
What Kind of Cameras Are Available For This?
Given the rapid evolution of drone and camera technology, users have a wide range of equipment to choose from. Small, economical consumer-level drones are widely available to capture good quality 4K images. Specialized, higher-end, high-resolution cameras can collect incredibly detailed images in challenging lighting conditions. The Phase One iXM-100 medium format metric camera Ayres owns captures superior images in high-contrast environments.
This setup can simultaneously capture detail in bright sunny areas and deep shadows.

On the left, a high contrast image with areas in bright sun and deep shadows. On the right, the imagery in the shadows has been adjusted to reveal detail at a level only possible with a high-dynamic range camera like the Phase One.
How Can Users Manage Large Imagery Datasets?
Users need a streamlined solution for navigating through collections of high-resolution imagery because it's inefficient to search through a folder or external hard drive for the images you need of an area. Ayres has addressed this issue by providing the imagery in an AyresView tour, a web-based tool that was developed for linking 360-degree panoramic images. AyresView was an obvious solution to the challenge of managing large imagery datasets because it offers fast performance and links the images to place markers on an overview map to provide spatial context for users. It also augments individual imagery by providing multiple views and angles of views to capture critical items that may have been just out of frame on the individual images.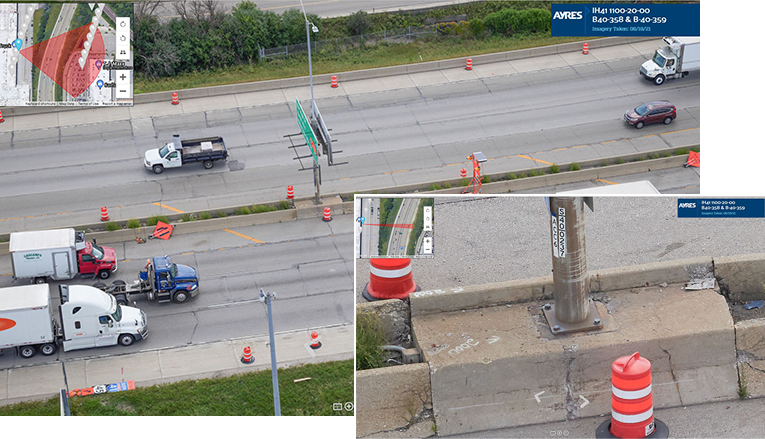 What are Some Examples of Oblique Imagery Projects?
Case in point? Consider the following recent project scenarios.
IH 41 (Milwaukee, near Capitol-Burleigh interchange). Our team captured high-resolution oblique images in a high-contrast environment (bright sun mixed with deeply shaded areas) for design on a highway overpass rebuild. The location was an inherently hazardous worksite, so flying parallel to the overpass offset by 200 feet minimized surveyors' and engineers' exposure to busy traffic.
STH 29 and Brown CTH "VV" interchange (Pittsfield, Wisconsin). Periodic high-altitude obliques were captured to document progress on the construction of an interchange over a large area.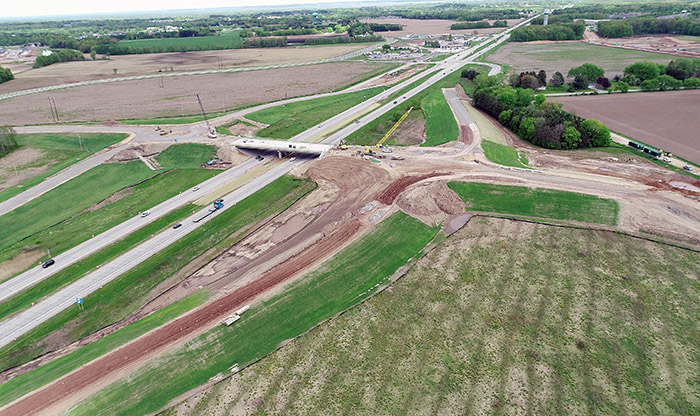 Utilities (various locations). Oblique inspection imagery is routinely used to document as-built conditions to support ongoing maintenance and system upgrades. Combined with 360-degree panoramic images in an AyresView tour, this imagery provides engineers with the ability to review an entire project with minimal visits to the field.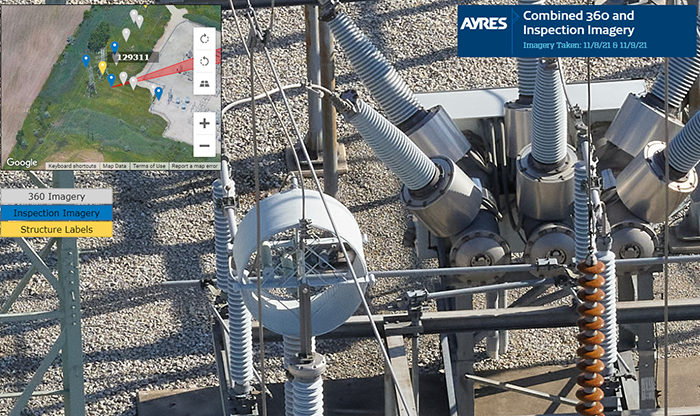 The bottom line? High-resolution oblique imagery can solve numerous project challenges, providing solid solutions where traffic volumes are high, when access to a site may be hazardous, and in countless other scenarios. Consider it as a solid option on your next project, and feel free to reach out to our team with any questions.