Coming Full Circle: 360-Degree View Aids Projects
By Paul Crocker
Everything from shopping to schooling has seemingly gone virtual these days. Taking 360° virtual project tours is now possible too. If you have questions, we have answers: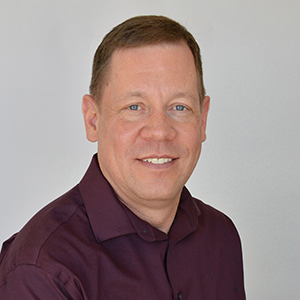 About the Expert:
Paul Crocker is a project manager in our survey group. He performs and oversees unmanned aerial system (UAS) missions, coordinates UAS pilots and equipment, oversees training, and performs quality assurance/quality control. He has 20 years of experience working with enterprise geographic information system implementation and administration.
How much can you see with 360° technology?
The technology allows for detailed, high-quality, high-resolution views. Many times, clients can actually see more remotely than they would if they were physically on-site, as data is gathered both from still cameras and drones. Our AyresView service provides clients with an immersive 360° view of their projects from any point in space, from ground level to 400 feet in the air.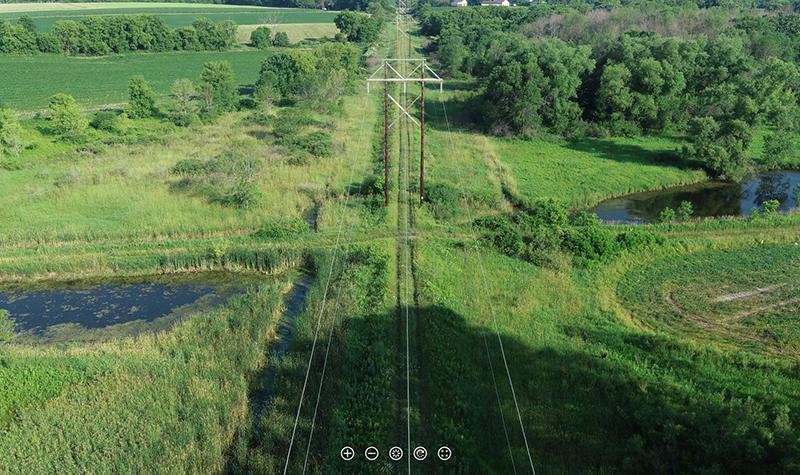 A high-resolution aerial 360° image reveals an elevated access road with steep sides surrounded by marshy ground.
How does 360° imagery enhance site analysis?
Traditional aerial imagery is a good baseline for a site overview, but 360° imagery provides new dimensions to site analysis. The very high-resolution 360° imagery offered by Ayres allows viewers to perceive subtle changes in elevation and vegetation and detect small details that may be critical factors when managing infrastructure or access to a project. When paired with aerial imagery and other geospatial data, 360° imagery provides a greater understanding of sites, corridors, and structures.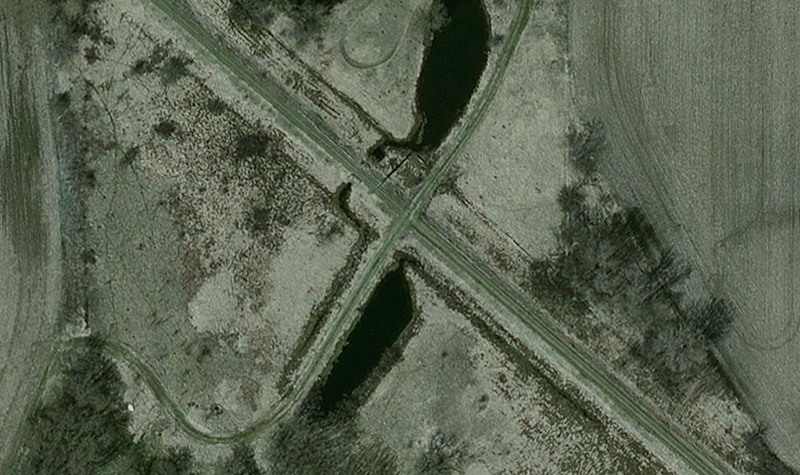 An overview aerial image of a utility line. The flat nature of the aerial imagery does not reveal the precarious nature of the stream crossing.
Will 360° virtual project tours save me time or money?
Virtual tours can definitely bring cost savings for clients by documenting points in time and allowing others to return to sites remotely, as often as they would like. The images document what's there now and then capture the changes that occur over the course of a project. Users can compare imagery with what's been measured precisely before – which is particularly handy with construction, assessment, or survey work – and can easily monitor project progress. Of course, you can quantitatively do this through tables and reports, too, but, in the case of a construction project, you can actually see the progress by looking at the imagery.
Does this technology help prevent project problems?
Many times, it can. 360° imagery helps clients visualize obstacles encountered as projects unfold and see how the recommended engineering solutions are addressing them. A traditional "boots on the ground" survey can only reveal so much information – the overall lay of the land, vegetation in the way of something, or a landowner's encroachment, for instance. 360° imagery allows you to see all that and more, including challenges that have been addressed and those that still remain. For some utility companies, we've collected images every 150 feet on 20-mile corridors – allowing for a comprehensive dataset.

A ground-based 360° clearly shows the hazards to work crews posed by this crossing.
What are the benefits of virtual walk-throughs?
Virtual walk-throughs are a convenient and cost-effective option for clients. Instead of driving to and from project sites (sometimes repeatedly), they can simply boot up their computer or mobile device and see their site remotely. In addition to convenience, it's also potentially safer. A transmission substation, for instance, houses high-voltage equipment, and visitors often need credentials or certification just to enter the gate. A virtual walk-through removes the safety risks and allow users to "be there" when it's not safe to physically be there.
Is the technology costly?
Because 360° imagery is often an add-on to services already being provided, it doesn't add a lot of cost to a project – but it does add a lot of value. Often our surveyors and technicians can capture the imagery while they are working on other tasks on the project. In the case of imagery captured by a drone, the project can be documented much more quickly than someone on the ground can cover it. Unlike an in-person visit, clients can view the imagery and also revisit it to go back and look at something that might have been missed the first time or point out something they noticed during their first review. They have the ability to go back to imagery at any point in time and share it with others.
And because the data is hosted on an Ayres server (although clients could house the data themselves if they prefer), clients need not worry about file storage or maintenance. They simply view the information on a password-protected site in a web browser.
Is the interface hard to use?
Taking a 360° tour is straightforward and easy to navigate. Color-coded pins represent images from different time periods, and buttons toward the top of the page allow users to switch back and forth between time periods. The interface is similar to other mapping applications that most users will already be familiar with.
Want to take it for a test drive?
Visit Stone Barn, in Chase, WI, and Lineville Road, in Brown County, WI, to view two demo projects, experience AyresView 360°'s interactive nature, and see how easy it is to move through space from image to image.