Culture
We provide smart, creative solutions. How we do that makes all the difference.
Working for Ayres
We're dedicated to providing exciting opportunities and career growth within a supportive environment.
As an employee-owned company, each member of our team is personally invested in the success of what we do, and they're committed to living out the values that have held true since our founding in 1959. To ensure our employees can develop long and fulfilling careers – and to show them we recognize and reward their commitment – we offer many opportunities to enhance their existing skills, develop new ones, and expand their industry knowledge and accreditations.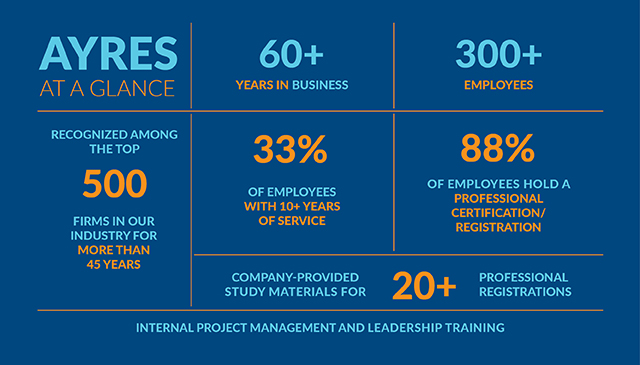 With a team of 350+ innovative problem-solvers nationwide, we stand with integrity behind thousands of projects that strengthen communities and our country's infrastructure, economy, and environment. Our client partners benefit from our knowledge, guidance, and expertise – and know they can rely on us to provide creative solutions to their problems, maximize their budget, and masterfully navigate regulations – all while building and continually investing in a strong, lasting relationship.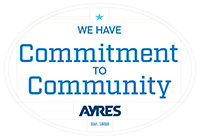 Contributing to Healing
When Ayres employee-owners heard about the Waukesha Christmas Parade tragedy that killed six people and injured dozens, their response was visceral. Our people are woven into the fabric of our communities, and our Waukesha staff knew some of the victims and immediately wanted to do something to help. A request from one staff member triggered our Ayres Cares Committee to request a company match for all funds donated by Waukesha staff to the United for Waukesha Community Fund. Every penny of that fund will go to the Waukesha County Community Foundation to support the needs of families affected by the tragedy. Many individual donations later, the company's match has been donated to the fund, which so far has raised more than $3 million.
As an employee-owned company, we're personally invested in the success of what we do and live the values that have held true since 1959. We're proud to bolster some of the most talented minds in the industry and believe that our diverse backgrounds, expertise, and passion make us stronger as a company. We're encouraged at Ayres to speak up and solve problems and embrace a "go get 'em" attitude. The spirit of balance and belief that everyone's contributions matter make us proud to say we work for Ayres.
Our culture is open, and our leadership is transparent – paving the way for growth, new challenges, and the occasional mistake that we can learn from and better ourselves by. We're all on different paths – professionally and personally. Ayres meets us where we're at and empowers us with the tools and resources to grow our career and find passion and purpose in our work.
Diversity, Equity, Inclusion, and You
Ayres sees you. Whether you're on our team or you're a client we're partnering with, we appreciate your life experiences. Our world is 3D, and it demands solutions inspired by more than a one-dimensional perspective.
We challenge each employee owner to be curious about others and skilled at inviting others to share the view from where they sit. That raises the quality of what clients hire us to do, which is incubating solutions that connect people and improve lives.
We're proud of our inclusive culture, where each member of our team feels comfortable and confident being themselves at work – and knows how to cultivate that comfort with clients too. That level of trust unleashes all the intelligence, creativity, and innovation in the room.
Equal Employment Opportunity/Affirmative Action
Ayres believes in and practices equal opportunity and affirmative action in recruiting, hiring, training, promotion, compensation, and other employment programs. See more details in our EEO/AA Policy Statement.