What Do Environmental Engineers and Environmental Scientists Do?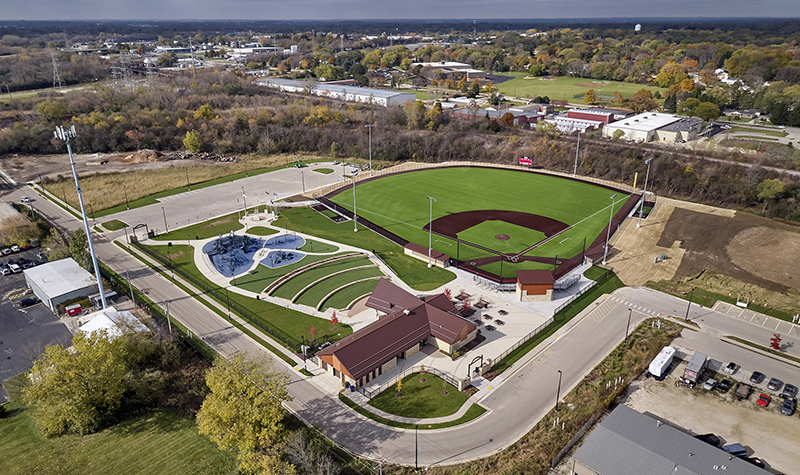 A five-year redevelopment effort turned the City of Glendale, Wisconsin's former Bender Road Landfill site into a vibrant community park and collegiate-level baseball facility.
On the highest level, environmental engineering has two goals. The first is to help correct the mistakes of the past that have led to the environmental issues of today. The second is to help minimize the impacts of current development, working toward cleaner, safer conditions today and into the future. In their day-to-day work, environmental engineers draw on biology, chemistry, ecology, geology, hydraulics, hydrology, mathematics, microbiology – and common sense. They balance the needs of development with the need to protect the health of people and the environment.
That's a world-changing responsibility.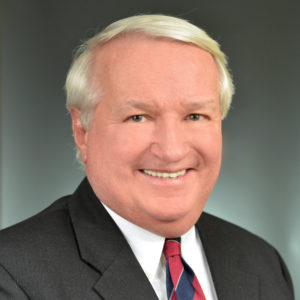 About the Expert:
Scott Wilson, PSS, is a vice president at Ayres and leads the Development Services team, which offers environmental assessments, remediation planning and implementation, brownfield redevelopment and reuse planning, funding strategy and grant procurement, and solid waste management to clients nationwide.
Correcting Yesterday's Mistakes
In years gone by, landowners and developers were not always aware of the long-term effects of manufacturing and industrial processes. The result is a nationwide inventory of now dilapidated structures and locations that are more than just eyesores; often these sites contain soil and/or groundwater that are contaminated by harmful heavy metals, PCBs, and other by-products of industrial enterprises. The buildings themselves are often beyond repair and may contain asbestos insulation, lead paint, PCB lighting ballasts, mercury switches, or other potentially harmful substances.
One major focus of Ayres' environmental engineers and scientists is investigating brownfields and determining how they can safely and economically be reused for new purposes, such as parks, recreational facilities, housing, or retail/educational/commercial developments. The process begins with an analysis or inventory of concerns, determined through examination and testing. Environmental engineers and scientists then design ways to eliminate or mitigate environmental hazards at a site.
Ayres helped the Village of Waunakee, Wisconsin, turn a contaminated alloy casting site into its new library campus.
Ayres' environmental engineers and scientists have helped turn hundreds of these blighted areas into valuable properties through meticulously assessing conditions and determining the best means to remediate environmental impacts. When the site meets safety standards, the land can be reclaimed and developed. In most cases Ayres' environmental engineers have helped communities and developers acquire grants to help cover the costs of reclaiming these sites and turning them into productive sites that contribute to the tax base.
Safeguarding the Future
Development and tax-based improvement are signs of a healthy economy. Blighted areas are transformed into community assets. City water systems expand to provide a larger population with safe drinking water. New roads are built to serve new neighborhoods and development centers. New parking lots are constructed around new stores, areas of entertainment, and workplaces – and with much better stormwater improvement and treatment than parking lots designed years ago.
Environmental engineers and scientists work to minimize the negative impact of increased hard surface of those improvements and developments. They determine the potential effects of building a road through an area of high groundwater, for example, and guide means of protecting the environment surrounding that road. When a landfill needs to be expanded or infrastructure installed to channel floodwaters, environmental experts work alongside civil engineers to make sure the projects meet the needs of developers while protecting health and safety today and into the future. They assess the project for potential harms to water, soil, and other natural elements, and they determine ways to contain or prevent those harms.
Landfill Construction and Expansion
Despite improvements in packaging and recycling, humans produce a substantial amount of trash. When communities need to build or expand landfills, environmental engineers analyze the site, determine what natural features must be protected, and design systems to allow trash disposal while protecting the site and surrounding area from groundwater contamination and landfill gases. The innovations they have developed have dramatically improved the safety of landfills in the past decade.
New Construction: Stormwater Management
Water that collects after a rain or snow melt must go somewhere. It may pool and eventually evaporate and/or seep into the ground. It may follow the contour of the land and run into a stream or ditch. In either case, vegetation slows the water's flow and helps filter out contaminants before the water runs into a stream or other collection point.
Construct a building, parking lot, or roadway on vacant land, and those impervious surfaces change the natural flow of water through the site. The subsequent runoff may carry debris and potentially harmful substances into waterways and can cause erosion and exacerbate localized flooding.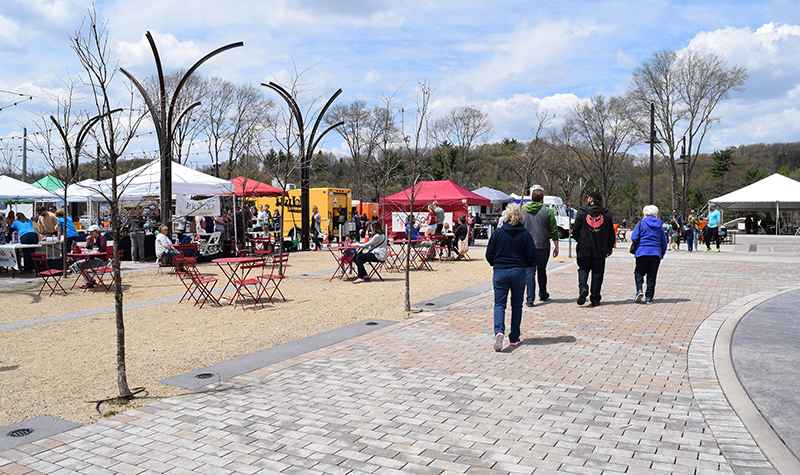 Working with civil engineers, urban planners, and designers, environmental professionals use a number of tools to mitigate the effects of that lost land surface. Roofs may support rain gardens to slow water flow. Parking lots may include buffer areas (bioswales) with vegetation to slow flows and help remove potentially harmful particulates. Pervious pavement in parking lots and roadways allows groundwater to seep through them and into the ground.
Community Health
Safe drinking water and safe sewage disposal are more than just conveniences; they are crucial for public health. Environmental engineers are part of the team behind those systems. They work to make sure drinking water comes from a reliable source and is treated as needed to make it safe to drink. Environmental engineers also assist with the design, construction, and maintenance of systems to gather and treat human and industrial waste.
The Bottom Line on Environmental Engineering
Think of all the infrastructure that provides essential service: water distribution systems, landfills, brownfield remediation of impacted sites for future development, stormwater collection systems, air permitting and environmental impact statements, roads and bridges, even electrical transmission lines. Environmental engineers work to maintain those services while safeguarding the environment and our health from the effects these all can have on natural resources.
A former manufacturing facility was razed, and a fire station now occupies part of this site.
And think of the abandoned industrial sites, and even closed landfills, that have been transformed into parks, commercial sites, or other community assets. Somewhere along the line, environmental engineers helped guide those projects to completion.