Upon Further Inspection, Is That a Drone in the Chimney?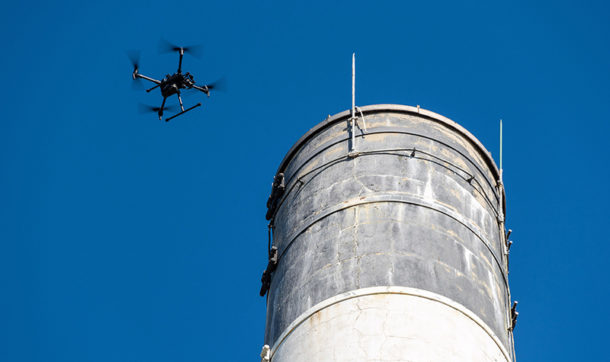 Santa comes down the chimney with a bound – or so goes the old poem. But Santa isn't alone in navigating tight spaces. Unmanned aerial systems (UAS) have been used in a few chimneys this year in Wisconsin.
The chimneys in question are state-owned heating plant chimney stacks. Normally an inspector would need to rappel from the top or climb up from the bottom, both inside and outside these structures, to do a thorough inspection. That's a dangerous and difficult task. Using a UAS – commonly known as a drone – structural inspectors and certified remote pilots were able to complete the work while remaining safely on the ground. The structural inspectors examined cracks, mortar joints, bricks, platforms, ladders, antennas, and other features in real time while the remote pilots took detailed photos or video.
Every year more and more uses are being discovered for drones. Regulations approved in 2016 (Commercial Small Unmanned Aircraft Regulations [Part 107]) streamlined pilots' ability to operate UAS commercially in the national airspace. UAS uses include:
Construction site observation before, during, and after completion of work
Safe and efficient volumetric surveys of landfills and mining operations
Structural condition inspections
Topographic mapping and orthoimagery for use in site design
Thermal imagery for detecting "hot spots" in electric transmission and distribution networks
UAV-based lidar for corridor mapping, as-built surveys, or to detect vegetation encroachment
Damage assessment from storms or other natural disasters
Even with the streamlined regulations, a Federal Aviation Administration (FAA) certified remote pilot is still needed for commercial flying applications. Before a UAS can be used on any site, the remote pilot in command must determine if there are any safety issues or regulatory restrictions at the requested location. Restricted airspace near airports may require an authorization from the FAA. The authorization may include additional restrictions, such as limiting the altitude at which the UAV can operate to a level below the current maximum altitude of 400 feet.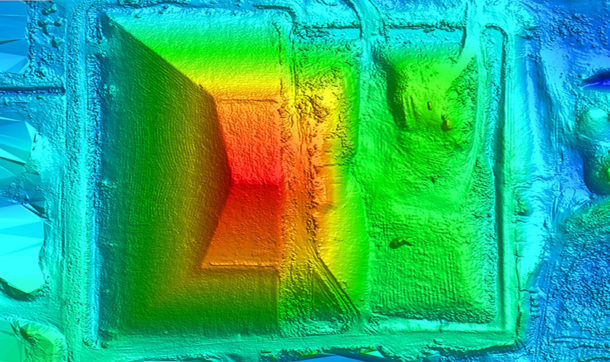 Other site restrictions may be in place at locations such as correctional institutions, military installations, and critical infrastructure due to security and safety concerns. Permission from the governing entity may also be needed to legally operate at these sites. Certified pilots are aware of the many factors that need to be assessed and evaluated before every flight and know when and how to obtain waivers or authorizations for each situation.
Weather also needs to be taken into consideration. However, cold winter days are not a problem for flying because of battery warming technology. Pilots prefer partly cloudy days because they have fewer shadows to contend with.
Drones are capable of a lot these days, but delivering packages is still not practical: One of the strictly enforced safety measures is for the drone to be within the pilot's sight at all times. So Santa is still in charge of Christmas Eve deliveries. For everything else, when it comes to services that can be provided by drones, the sky truly is the limit.
Ayres Associates has three FAA-certified remote airman pilots on staff, providing services for an increasing number of UAS projects nationwide.