Underwater Inspection: When, Why, and How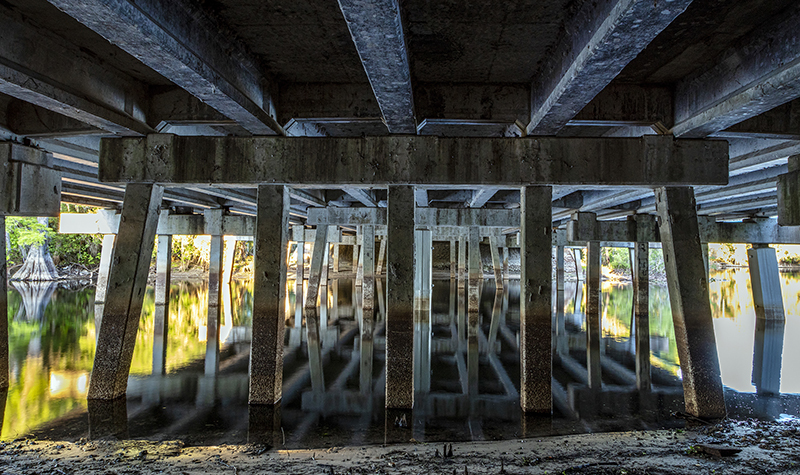 By Rick Maslyn, CBI
Some of the most important foundation elements of a bridge are its least visible – the abutments, piers, piles, and footings submerged under the waterline. Regular inspection, both above and below the waterline, helps to keep aging structures solid and stable.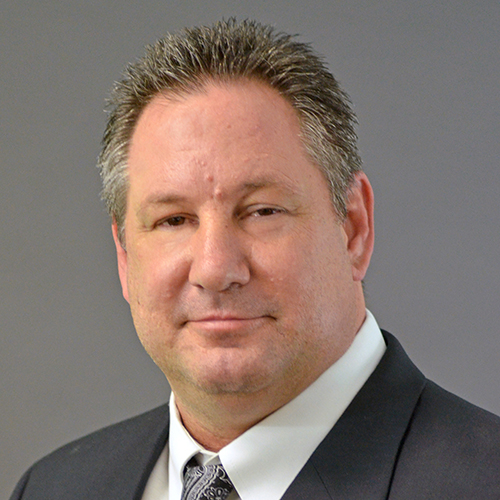 About the Expert:
Rick Maslyn, Ayres' supervisor of structural inspection, has more than 36 years of experience in the field. He provides project coordination, quality control/quality assurance, and client management and also serves as a team leader, a critical role in emergency response situations. Rick has overseen several districtwide contracts for bridge inspections involving hundreds of structures.
How Often Should Bridges Be Inspected?
The National Bridge Inspection Standards (NBIS) were established in the 1970s and set up criteria for which bridges need inspections, how often they should be inspected, and who is qualified to conduct an inspection. NBIS dictates that vehicular bridges, greater than 20 feet long, open to public travel, must have regular inspections by qualified bridge inspectors.
That includes routine above water inspections every 24 months. Underwater inspections are required at a maximum interval of 60 months for bridges with elements that cannot be accessed without diving equipment.
Why Perform Underwater Inspections?
As mentioned at the outset, important structural components of the bridge exist beneath the waterline, and periodic inspections performed by certified underwater bridge inspectors help to protect bridges and the commuters who travel them.
But another incredibly important aspect of those inspections is looking for scour – the erosion of soil surrounding bridge foundation elements (footings, columns, piling, and abutments). During routine inspections, comparison of the current groundline elevation as compared to previous elevations is also carefully reviewed.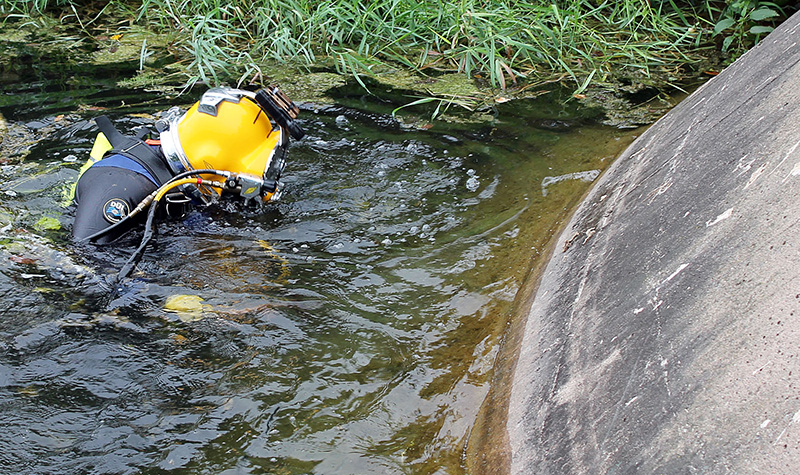 According to the Federal Highway Administration (FHWA), bridge scour is the leading cause of bridge failures in the United States (approximately 25 to 30 bridges per year). Thousands of bridges are listed as "scour critical" in the National Bridge Inventory (NBI). Without effective countermeasures in place, scour can cause catastrophic results.
What is Scour?
Scour, a naturally occurring process where flowing water removes riverbed sediment from around bridge piers and abutments, is recognized as the No. 1 cause of bridge failures in the United States. Without adequate design and countermeasures in place, scour can destroy infrastructure and undermine bridge foundations.
How Are Bridges Inspected Safely in High-Water Events?
The optimal time to assess bridge scour is in real-time during high-water events, such as during a flood. Unfortunately, this can also be the most dangerous and problematic time for divers to assess a bridge because of the fast currents, low clearance underneath, and shifting debris piles resulting from turbulent, swiftly moving water.
The most effective way to maintain the safety of inspectors during these times is to keep them out of harm's way, and unmanned surface vessels and other sonar equipment help make that possible.
Unmanned surface vessels, or USVs, are like remote-controlled boats, though some can more closely resemble buoys, and are fast, maneuverable, and self-righting in strong currents. They originally were developed for various research topics, and some models were also adapted to aid in search & rescue missions. Many forms of USVs have been adapted to allow scour inspection to be conducted from the shore. These nimble devices bring a range of benefits to scour inspection, including:
Increased safety by eliminating the need for an inspector or diver to enter the water during extreme conditions. USVs can be operated from a safe location nearby.
Quick deployment for timely inspections
Capabilities for conducting inspections during a high-water event
Use of sensors and cameras to collect accurate, real-time data and transmit that data back to shore
Case Study: Enabling real-time scour studies was the Michigan Department of Transportation's goal when the agency recently partnered with Ayres' structural inspection group to develop a safe, practical solution to conduct scour inspections.
Underwater Inspection Levels, A Tiered Approach
The USV or other remotely operated vehicles are not a substitute for up close and personal inspection by qualified inspectors. During regularly scheduled inspections and in unplanned situations, such as immediately after flood waters recede, qualified diver inspectors go underwater to conduct assessments of the channel features and those portions of the bridge below water. Underwater inspections may be of intensity Level I, Level II, or Level III.
A Level I inspection is a visual, tactile inspection on 100% of the surfaces below water. Inspectors conduct a close visual examination of the entire submerged portions of a bridge. The inspection is detailed enough to detect scour and other deterioration and may include probing the adjacent channel bottom. If water clarity is too poor for a visual examination, inspectors use their hands to carefully check the bridge members.
The Level I inspection may indicate a need for a more detailed Level II inspection. During a Level II inspection, the inspectors also perform a Level 1 inspection, but also must clean marine or aquatic growth from a minimum of 10% of the bridge members below water if growth is present.
A Level III inspection is the most highly detailed of the inspection types and is typically used when it appears that the structural integrity of a bridge member(s) may be compromised or prior to rehabilitation to fully assess all underwater components. It involves extensive cleaning, detailed measurements, and nondestructive testing or partially destructive testing using techniques ranging from sample coring to ultrasonics.
When a deficiency is identified underwater that could affect the load-carrying capacity of a structural member, a Level I or II dive can quickly escalate to Level III. For a Level III dive, the effort put forth by the diver, dive team, staff supervisor, client, and owner will also escalate far beyond that of the Level I or II underwater inspection. It takes a systematic approach to first identify the conditions below water and then collect vital information as needed so all parties involved have confidence in the data provided by an underwater inspection.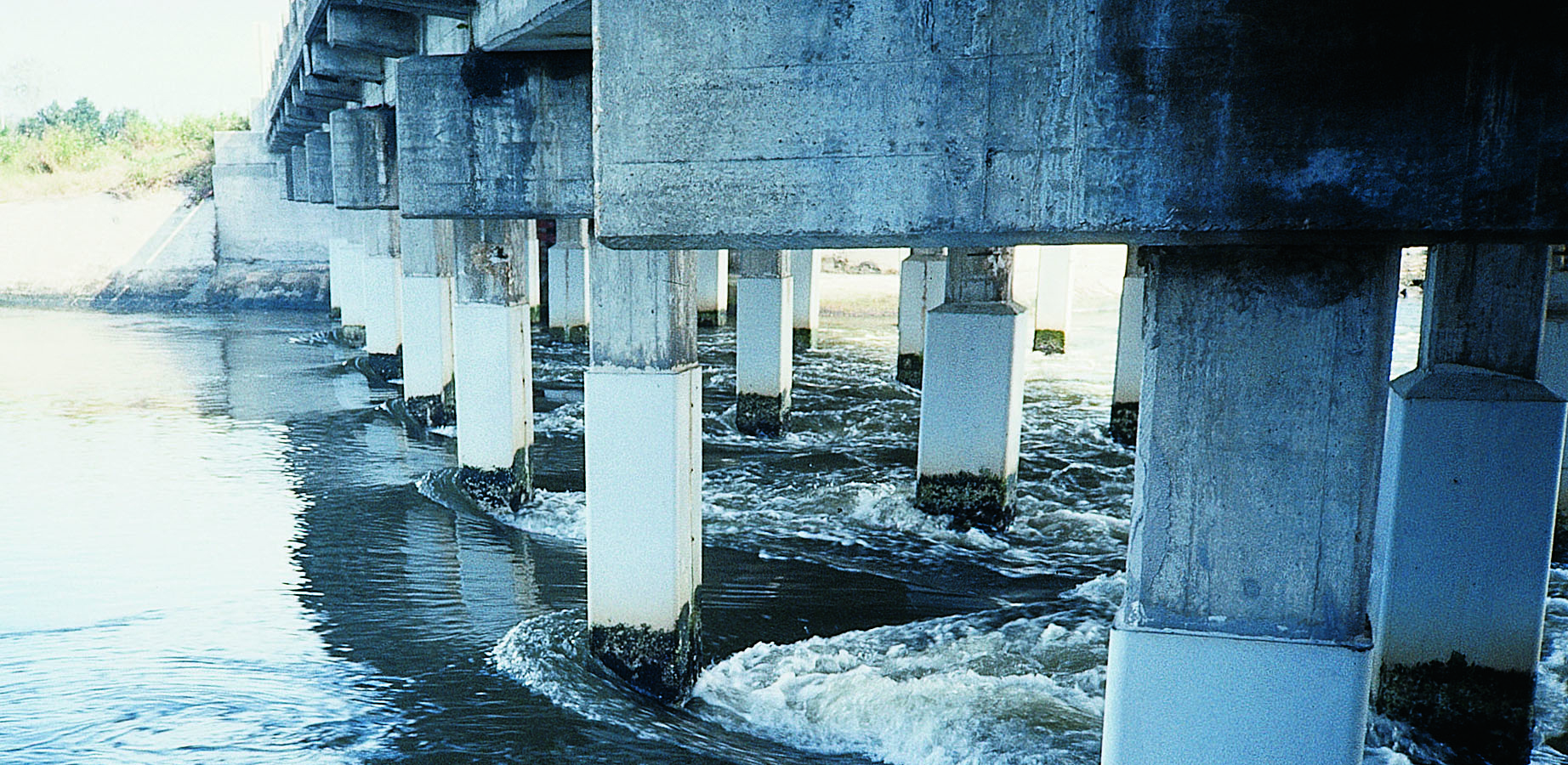 How Do Inspectors Know What to Look for?
FHWA's National Highway Institute (NHI) provides several courses on scour and underwater bridge inspection that teach engineers and inspectors what to look for and how to keep scour from threatening bridges. Courses include:
Course 130091 Underwater Bridge Inspection: Comprehensive training on types of inspections, needed, elements to be inspected, proper procedures, equipment selection, and assessing material defects to assign condition ratings.
Course 130091B Underwater Bridge Repair, Rehabilitation, and Countermeasures
Course 135046 Stream Stability and Scour at Highway Bridges: Comprehensive training on the effects of contraction, pier and abutment scour, stream instability, erosion, and stream aggradation and degradation.
Course 135047 Stream Stability and Scour at Highway Bridges for Bridge Inspectors: A one-day version of Course 135046, specifically for bridge inspectors.
Course 135048 Countermeasures for Scour and Stream Instability: Guidance on designing countermeasures for stream instability and scour problems at bridges.
Ayres has been at the forefront of scour analysis and evaluation and has a long history of delivering successful research on the topic. The Ayres bridge inspection team has also effectively and safely inspected approximately 30,000 bridges and performed approximately 4,000 underwater inspections throughout the country. For additional questions or more information regarding structural inspection, contact Rick Maslyn, CBI.