Senior Living Interiors Need to Impress, Perform, and Last
When most people think of interior design, they think of someone with an eye for color and a flair for accessories who picks out paint, flooring, and stylish décor. When it comes to interior design for senior living communities, however, the reality can be much more challenging due to the special requirements of these facilities.
The first thing I do is sit down with my client to discuss the look they want and what can be accomplished with the budget they have. Often senior living managers are looking for a warm, inviting environment, so we'll go through the palettes to choose what style they'd like, such as modern, traditional, etc., that fits with the location or community where the building will be established. This makes the building more successful and sells better if it suits the residents/clients and the grown children who may be selecting the apartment for their parent.
We then review flooring and finish options that are durable, meet code for the building type, but still make the building feel inviting and home-like. This is where the design process becomes different from choosing elements for a single residence because two of the biggest considerations in designing for senior living communities are safety and durability.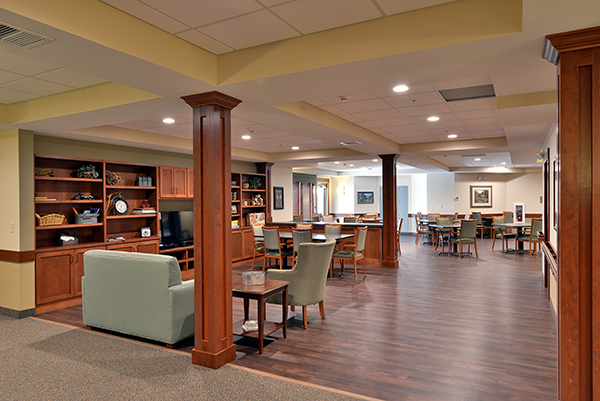 For example, in every senior living environment, several factors are reviewed when considering flooring options. As people age, eyesight weakens, and the lens of the eye tends to yellow. This can cause an unsteadiness among seniors at floor transitions because they are unable to read depth properly.
This is especially true in memory care wings, as you want to eliminate patterns on the floor that can cause dizziness among residents. A strong contrast in color can also be difficult for dementia patients, who might mistake light-to-dark transitions of materials as a step or a hole in the floor.
Wheelchairs and walkers need to be able to easily navigate over the floor transitions as well. Due to all of the traffic from residents and staff, the flooring wears quickly. We select durable luxury vinyl tile and low-level pile carpet and work at minimizing transitions between different flooring types. Not only do I want to save my clients money in the long run by choosing materials that won't have to be replaced in a year or two, but I also want to make sure that nothing creates a trip hazard.
Choosing furniture upholstery is another process that requires considering more than just color. There are plenty of trendy products out there that are fun to look at, but they don't wear well in a senior living environment. Senior living managers want the building to look home-like and stylish to attract residents and their families, but we need to walk the line between what draws people in and what is going to last. In addition to being attractive and durable, fabrics need to be anti-microbial, moisture and stain resistant, in budget, and meet flammability code for the building type. This can narrow the list of possibilities – but so far I've always been able to find something that will complement the design.
While I enjoy putting all the pieces together, at the end of the day, my favorite part of designing for senior living is seeing how the residents use the spaces we've designed as their home. It's satisfying to see residents take the big step of leaving their home and making this their new home.
Anne Peterson is a registered interior designer in Wisconsin and holds a National Council for Interior Design Qualifications certificate. She has over 16 years of experience in all facets of health care facility design, combining solid knowledge of codes and construction with her excellent ability to conceptualize interior detailing and provide safe, healing environments for patients and long term care residents. Anne has overseen the interior design of hundreds of new construction and renovation projects that provide comfortable home-like atmospheres for all types of residents, including long term, memory care, and specialty care. Her intuitive insights during development of the design allow her to generate several effective alternatives to meet the needs of the client. For more information about interior design services, contact Anne.