Drones Bring High-Quality Imagery to Subsurface Utility Engineering Projects and More
Ayres offers Quality Level A subsurface utility engineering services using the Vacmaster System 4000. This allows for using high pressure air instead of water 95% of the time, reducing materials and clean up expenses while also decreasing the time taken to complete the average test hole.
By Kasey Hayes
As the demand for high-quality subsurface utility engineering (SUE) services grows for municipalities across the country, finding ways to deliver this service efficiently and accurately is paramount. Now there's a way to bring even more accuracy and peace of mind to municipalities to meet SUE project requirements: using imagery delivered by unmanned aerial systems (UAS), otherwise known as drones. This superior imagery allows for an efficient, cost-effective way to view the entire project area in one sitting, with the ability to quickly spot any missed areas and help owners better scope their projects, among many other advantages.
Utility Locating Critical to Project Success
Locating utility infrastructure is an often underemphasized but required component of most transportation and building projects. Utility infrastructure includes potable water, sanitary sewer, gas, electricity, telecommunications, and stormwater conveyance. As our world grows, the demand for utility locating services continues to intensify. Many states, including Colorado, have in recent years adopted their own set of rules regarding SUE. Central to the Colorado law is a stipulation that SUE locating must occur at the start of project design, requiring the work be completed by someone licensed as a utility engineer. Many states are to follow suit.
This photo shows utility line markings taken from a drone for the Greeley Loveland Irrigation Canal and Lake Drive stabilization project for the City of Loveland, Colorado. Ayres designed mitigation for this project, and construction is now complete.
This increased awareness of the importance of quality, professional SUE work means municipalities and other project owners need to focus on SUE services from the start, rather than it being something done after a project is under way. While this may require an extra step at the start of a project, it brings many advantages, with one being the ability to combine SUE work with collecting high-quality aerial imagery in cases where SUE providers also have access to drones.
Combining Aerial Imagery and SUE
In many cases, both SUE providers and their clients have relied on site visits and Google Earth to gather images for their work and for scoping projects. However, site visits only cover so much area in a fixed amount of time. Google Earth images have limitations; they can be outdated and, as such, show drastically different images from what exists. For example, a bridge may show up in the Google Earth image that in present day has been removed. Easements, ditches, access roads, and other structures may not match up. UAS imagery shows clients in real time what the area looks like; it's the next best thing to a site visit. In fact, when collected as 360-degree panoramic images, it's essentially a site visit with the bonus that it can be shared with clients in an online viewer.
UAS Precision, Quality Over Alternatives Adds Value
The imagery collected by UAS is so precise that it is appropriate to use where only manned fixed-wing/helicopter flights had been used previously to collect orthoimagery. This technology also replaces high-risk physical inspections for facilities such as water towers, utility corridors, and other structures.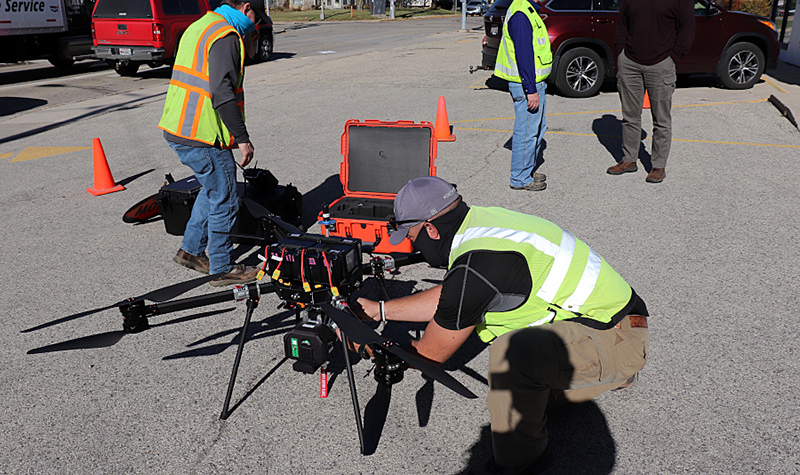 SE-8 drone with the lidar payload.
Advances in UAS technology make drone collection ideal over smaller areas compared with fixed-wing/helicopter deployments. And the time-consuming, high-risk deployment of labor-intensive inspection crews is not necessary in some settings because high-resolution metric-camera-equipped UAS units can collect the necessary visuals without humans ever leaving the ground.
For SUE services specifically, Quality Level B work requires underground utilities to be marked with paint on the surface area. With UAS imagery, SUE providers and their clients can get an overhead view of the entire project at once. This means it's easy to spot quickly if any sections were missed, providing an accurate way to double-check SUE work.
UAS Adds Value Beyond Locating Utility Infrastructure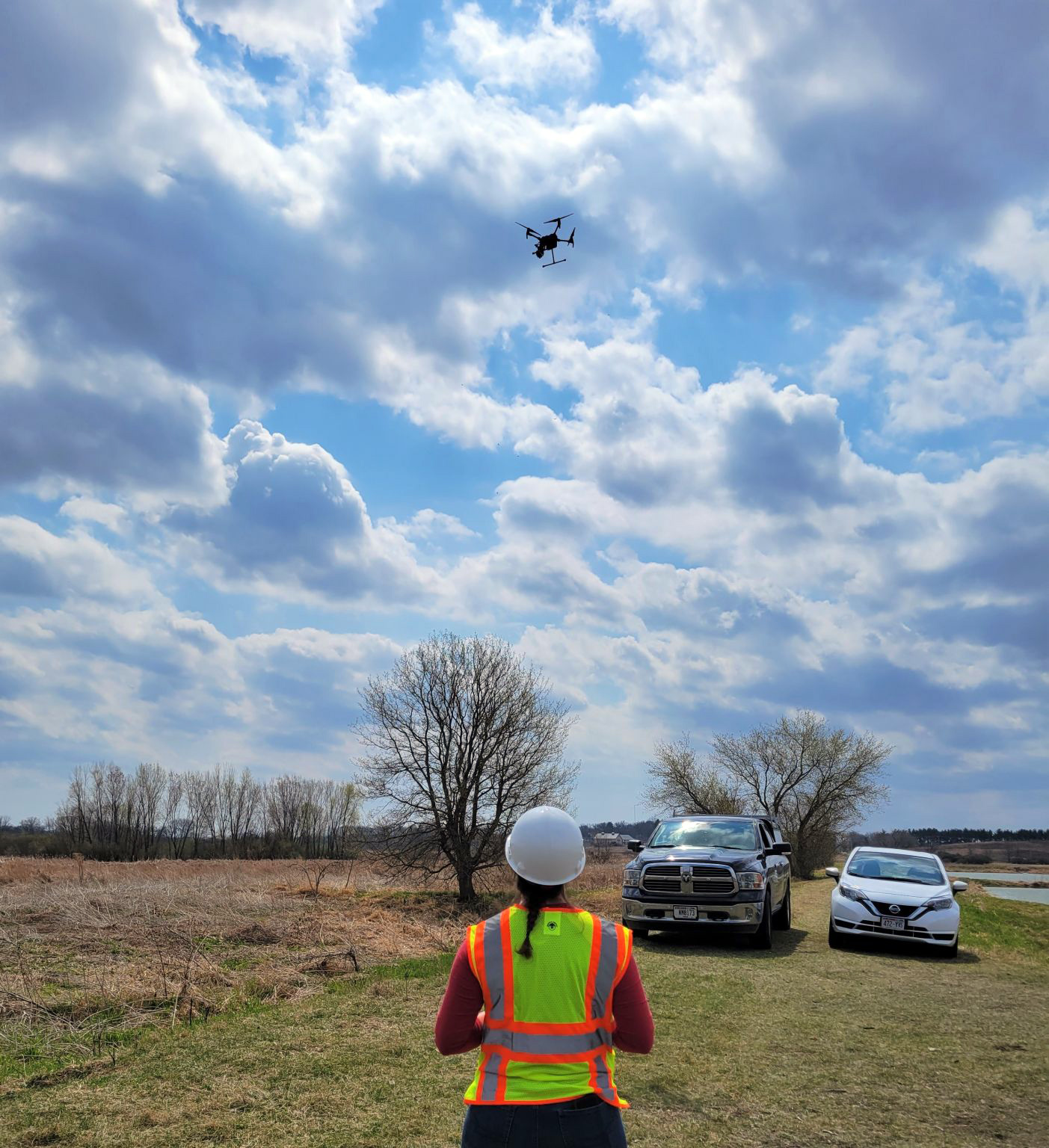 An Ayres' Geospatial Services Technician flies the DJI Matrice 200 drone with thermal imaging attached to track a stream near a marsh and landfill to see if there was water seeping into the stream from the nearby area.
As a bonus, clients can use the imagery that is collected to scope their projects and improve project cost estimating. The drone can be flown before the start of a project (or during the SUE work phase), during construction, and after the project is completed, providing an accurate view of the project progress. And UAS imagery can assist with countless other types of project work, well beyond SUE, including planning phases, transportation hydraulics and design, flood control, inspections, and many others.
Ayres has 11 FAA-certified pilots and owns and flies some of the latest and highest quality equipment available. Ayres has nine drones with various payloads (lidar sensors and cameras) that can be mobilized through the various offices at Ayres as needed on projects, including the Fort Collins, Colorado, office, which also provides SUE services at all quality levels, from A-D. Contact our Telecommunications + SUE or Geospatial Experts for more information.