Turning Lemons into Lemonade: Transforming Overlooked Sites into Senior Living Facilities
According to the U.S. Census Bureau, seniors are expected to make up 20% of the U.S. population by 2030. Just as the baby boomers fueled the need for more schools, they are similarly driving the need for more senior living facilities of all types, from assisted living to skilled nursing, and developers are responding.
The real estate mantra of "location, location, location" is just as important for senior living facilities as for any kind of business or residential endeavor. However, finding the right site for a new senior living development isn't always as easy as it sounds. When our architects meet with senior living management companies, they work to understand the markets they want to be in and the types of sites they are looking for. Their goal is to help them grow and succeed, wherever that may lead.
For example, we knew several senior management companies were looking to grow their footprint with a new facility in the eastern Twin Cities metro community of Woodbury, Minnesota. However, the companies weren't finding any appropriate sites that were readily available. We set out to find a "hidden gem" to create a project where there wasn't one. Ultimately, we found a location with great visibility and convenient access to nearby healthcare facilities and the interstate.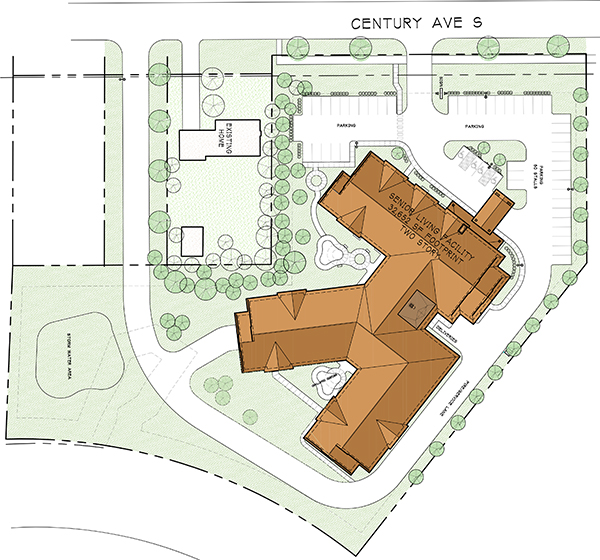 Why was it still available? Because, as they say, it was hard to see the forest for the trees. The 3.5-acre site combined two existing single-family residences in a mature neighborhood with an unusable city-owned parcel, adjacent to the interstate exit ramp, that couldn't be developed on its own. Ideally, the project would have been simpler to design with one more adjacent residential property, but its owners weren't ready to move. They weren't opposed to the project, but they had strong roots in the community that they wanted to keep.
With a potential site in mind, a market study confirmed the demand for that location. Using the data from the market study, the Ayres team set out to determine how to fit 76 units onto the challenging, relatively steep site.
Getting from that point to the completed project took a great deal of perseverance and coordination, but ultimately all the efforts resulted in the opening of Red Rock Senior Living in July 2015. Since opening, the building has been well-received by residents, families, and the community, all of whom are giving positive feedback about the building's design and home-like feel. Initial reports indicate that residents are moving in at a faster rate than anticipated. And that's a sweet sound to everyone involved in the process. Here are more details about the architectural and interior design for Red Rock.
This week is National Assisted Living Week, and we are excited to be part of the support system for seniors. Ayres' expertise in senior living facility design includes the continuum of care from independent living and assisted living to memory care and skilled nursing. Let's hear from you. What are you looking for when evaluating the location of a senior living facility, either for yourself or for loved ones?