10 Powerful Elements Bring Public Spaces to Life
How do you make a space great? Design it for its intended uses but with flexibility for those uses to change over time. And give people not just a single focal area in which to congregate but at least 10 ways to engage with the space.
Look carefully, and you'll notice the placemaking concept of the "Power of 10" being used in public spaces across the country. (See how the principles are at play in the Windy City, for instance, and how public placemaking studies back it up). While this principle can be implemented in most community parks, it's important to understand that it doesn't replace the design process. Standard landscape architecture projects typically go through a system of inventory and analysis, followed by schematic design and design development, eventually leading to construction documents. All of this leads to a project with clear communication and a desired set of goals the entire project team can understand.
The Power of 10 helps justify programmatic elements designed throughout the site. Site planning and communication are still incorporated when using the Power of 10 tool. It's not a replacement for a good design. For instance, you can't just randomly put 10 things in a park and expect it to work, but it's an effective way to make a park more engaging.
It isn't just big cities that are putting the Power of 10 into practice. We recently worked with the City of Altoona, Wisconsin (population 6,706) to integrate Power of 10 principles into the City's thriving new River Prairie Development.
Here are 10 elements of River Prairie Park that show the Power of 10 in action. Note the urban railroad theme and the mixing of wood and modern industrial materials to emulate the City's history and railroad heritage.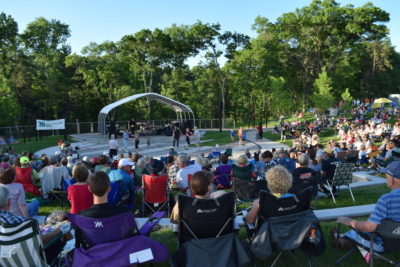 1. Music
Having a music venue was a part of the client's vision; the design incorporates appropriate performance space for live entertainment and retaining walls/tiered lawn space for spectators. A summer concert series called Rock'n on the River is bringing people to the space in droves each Wednesday evening.

2. Splashpad
The splashpad is framed by a stone seating wall that picks up on the stone of the railroad as well as the prairie-type design of the park. Kids might not notice, but they'll appreciate the streams of water shooting upward (that they can control by stepping on a colorful button).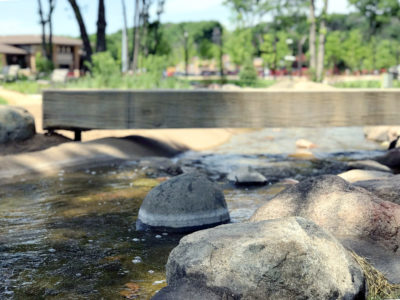 3. Stream
An artificial (but natural looking) stream bordered by stylized native prairie plantings weaves through the space, continuing the "river prairie" design. The calming sound of the moving water, the ambiance created by the purposefully placed rock formations … it's the thread that ties everything together.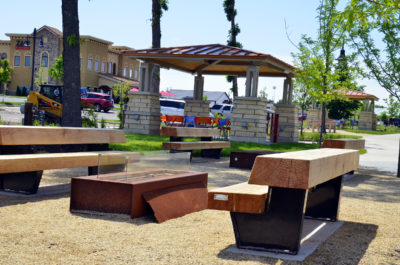 4. Fire features
Two modern-looking fire features include large plank benches for seating. The fire features are turned on with a timer – as a hot tub would be – and can be set at varying increments. The fire pits are very much industrial (and made out of corten steel). The bulky wood benches are also industrial but contrasted with modern, clean lines. Set into limestone screenings, the fire features give off a rocky, railroad feel while positioned next to organic lines that mesh into the space.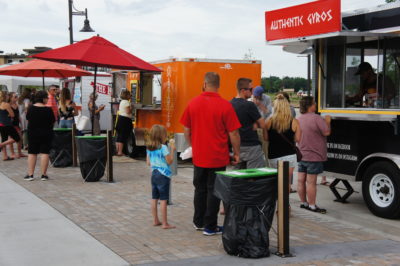 5. Food/Drink
Although several new restaurants are close to the park (and another with a rooftop outdoor space overlooking the performance area is coming soon), the ability to have food and drink onsite is a major plus for parkgoers. The design worked in hook-up locations and easy access for food trucks. There are also opportunities for beer tents and alcohol sales within the park and plaza space.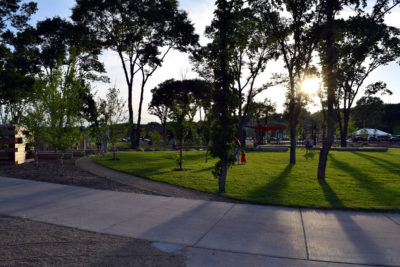 6. Flexible Lawn Space
River Prairie Park is all about options, and the lawn is no exception. People can relax on a blanket, play kubb, walk their dog, attend a wedding, or partake in whatever activity calls to them. The design incorporates appropriately scaled lawn spaces as opposed to one large "sea" of lawn. The three main lawn spaces are separated but connected by pedestrian-friendly spaces along the perimeter.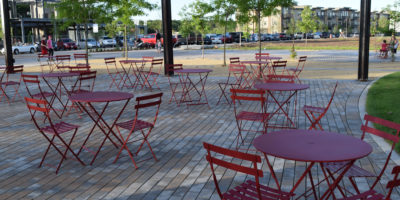 7. Movable Outdoor Seating
All the tables and chairs in the plaza are unanchored and can be easily moved by anyone. The idea is to encourage people to use the space.

8. Adaptable Plaza/Hard-Surface Space
One section features flexible hard-surface space, suitable for a farmer's market, vendor/product stands, an art show, and more. Seasonal-based design was incorporated to provide opportunities for events year-round –an Easter egg hunt in the spring or a holiday tree lighting in winter.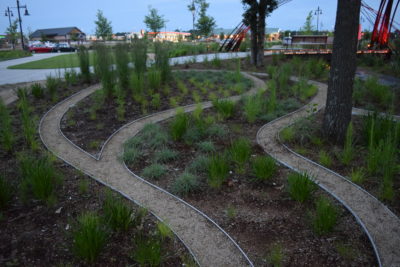 9. Interactive Plantings
Designers created paths going through the park and along its edge as opposed to lawns separating the space. Doing so allows park users to interact with the plantings – even go right up and touch them if they want to – while also offering a natural, easy-to-maintain separation between the lawn and planting bed.
10. Playground
River Prairie's custom-designed playground – featuring timber play cubes, balance beams, wooden "fingers" to play tag in, and a slide – is intended for children 6 and younger, although older kids are welcome to play too. It blends the natural feel of railroad timbers with the river prairie theme and modern lines.
The Power of 10 served as the motivation behind the P10 Festival held in River Prairie Park. The day's activities catered to attendees of varied ages and interests and were conducted – simultaneously – in multiple locations throughout the custom-designed space. While dance classes were offered at the amphitheater, a cribbage tournament was under way in the plaza; as family games went down in the great lawn, festgoers were chuckling at the comedy show at the Four Seasons Stage.
Flexibility was the name of the design game with the River Prairie project. No single type of user dominates the space. People are spread out everywhere, and that's by design using the Power of 10 model.
Chris Silewski, PLA, served as landscape architect and lead designer on the River Prairie project. With an innate interest in community planning, urban design, parks, and natural resource management, he expands Ayres Associates' capabilities in landscape architecture. His expertise also includes planting design, site inventory and analysis, soil fertility and fertilization, and construction detailing.