Quick, Accurate HD Scanning Can Replace Traditional Survey
Innovations in land surveying have grown by leaps and bounds over the past five years, and the solutions offered by high-definition (HD) laser scanning provide great benefits to projects and budgets.
Depending on the project, HD scanning can replace or minimize the need for topographic survey. It also provides such comprehensive data that returning to the site to capture more data is rarely necessary.
Basics of HD Scanning
Here is what HD scanning offers:
Scanning provides mass 360-degree data "point" collection.
Millions of survey measurements are performed in minutes.
Measurements are nonintrusive and made from a safe distance.
When brought into computer software and registered together, the measurements are collectively referred to as a "point cloud."
Often clouds comprise over 100 million points.
Point density and colorization makes the cloud look like an image.
Photographs are also taken during the scan to add color to the point data.
If photos are not taken, the cloud uses intensity for color.

Land surveyors are trained to collect data – millions of points per setup – via tripod-mounted HD scanners. The surveyors piece together the overlapping scans, and then technicians extract the data and produce CADD drawings and various other deliverables that are within one-quarter-inch accuracy when scanned up close.
Applications of HD Scanning
HD scanning can be used for a variety of projects, including:
Transportation design
Bridge and overhead obstruction clearance
Substations and utility infrastructure
Industrial facility maintenance
Architectural components
Change detection (load stress and settling)
Americans with Disabilities Act (ADA) compliance checks regarding sidewalk ramp slopes
Analysis of discontinuities (such as confirming the flatness of an old factory's floors to determine what imperfections might need to be corrected for reuse as a hospital or production facility)
Accurate, Effective Solution
When it comes to completing an as-built survey or an asset inventory, HD laser scanning is making amazing things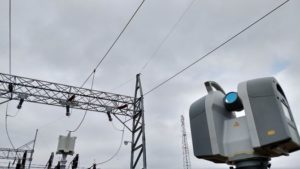 possible – in short order and with exceptional accuracy. HD scanning is the answer if a client needs to check a finished roadway against design criteria, precisely measure a bridge's clearance, or create a 3D representation of the existing conditions of a building, park, or dam to serve as a backdrop for visualizing the conceptual design of proposed renovations and how they fit into their environment.
For specific examples and more information on HD scanning, see the recent article in our company's TRENDS magazine and our website brochure about the service.
Jason Ingram, PLS, is Ayres Associates' manager of land survey. He supervises HD scanning activities – including setup, acquisition, and cloud registration – and has experience in scanning infrastructure for design and as-built needs. Jason has operated Trimble, Leica, and Faro HD scanners. He has significant experience in developing HD scanning derivatives that are used by clients in the transportation, energy, and architectural fields.