It Takes Special NHI Instructors to Keep Transportation/Hydraulic Engineers Up to Date

By Anthony Alvarado, PE, CFM,
While a college engineering program is logically the first step to learning the ins-and-outs of the profession, ask any practicing engineer, and they will likely say their learning didn't stop with their college diploma. In fact that's only the beginning. Being an engineer requires continual learning to keep up with the current state of practice. And that recognition is exactly why the Federal Highway Administration's National Highway Institute exists.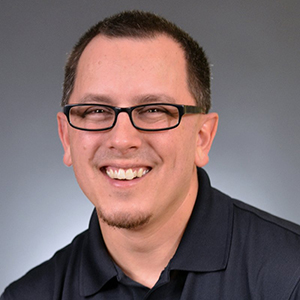 About the Expert:
Anthony Alvarado, PE, CFM, has been with Ayres over 20 years and is a project manager responsible for projects in bridge hydraulics, scour analysis, countermeasure design, hydraulic modeling, floodplain mapping and permitting, and GIS projects related to hydrology and hydraulics. He has been responsible for the hydraulic design of scour and stream instability countermeasures at various sites nationwide.
The National Highway Institute (NHI) is the training arm of the Federal Highway Administration (FHWA). Providing a slew of courses that keep technical experts relevant, the NHI relies on high quality instructors to give engaging and informative lessons. These instructors are either FHWA employees or outside vendors who have been approved as credible resources.
Becoming an Instructor
Ayres has a long-standing history of being one of the NHI's trusted vendors, and last week its staff took a step toward bettering its instructors' skills in the classroom. Hosting one of NHI's Instructor Development Courses (IDC) in its Fort Collins, Colorado, office, Ayres staff spent 3.5 days training to identify and implement adult learning strategies.
The IDC is just one of three steps involved in becoming an NHI certified instructor. Upon completion of the IDC, one must also be approved as a subject matter expert and then pass an observation for certification by a master trainer. This rigorous process ensures that the NHI can provide instructors of a high caliber.
Understanding Adult Learning
Knowing how to teach a group of post-graduate adults versus traditional college students is a practice that can make the difference between a course that wows students who will retain the information and one that falls flat and is forgotten quickly. Pictured below (left) is Brenda Huber, CFM, M.Ed., instructional designer, as she teaches the Ayres team how to engage an adult audience.
As the IDC progresses, students are given the opportunity to show off their newfound instructor chops by way of giving their own abridged lesson. They are then given feedback from their instructor on how to better meet the needs of adult learners. As noted by NHI, "A skilled trainer … will emphasize the use of experiential learning techniques, such as problem-solving analysis, discussion, question-and-answer sessions, group activities, demonstrations, role-plays, etc."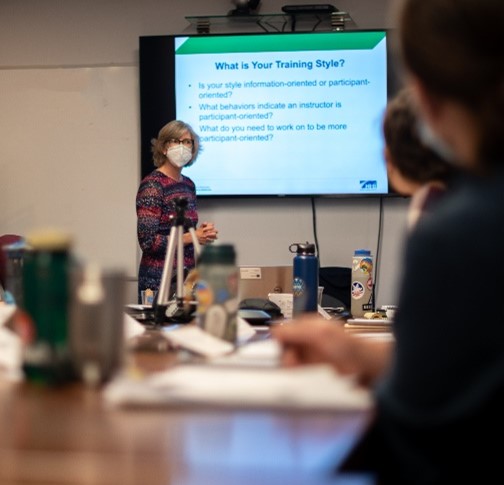 IDC Highlights
As this IDC drew to a close, participants were asked about their experience and new understanding of the importance of being a quality instructor. Here's what Chelsey Heiden, EIT, had to say when asked about the importance of the training, "I believe that it's critical to train to become a teacher. While someone may have mastered a certain topic, that doesn't prepare them for conveying that material to students. An effective trainer not only needs to know the material, but also has to have proper classroom management skills, ground rules, and the use of various learning activities to keep students engaged. While my daily work has prepared me to understand the content of courses I'll eventually be teaching, this course showed me how to teach that content in a way students will remember."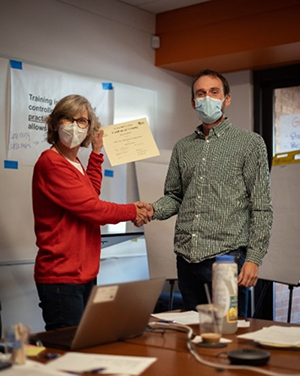 Chelsey is just one of many Ayres professionals that has undergone the IDC to become an NHI certified instructor. She looks forward to obtaining her professional engineering license in the coming year and completing the remaining steps she must take to become an instructor. "I want to be an instructor because I am passionate about a variety of topics that NHI teaches, and I really enjoy working with people. Being an instructor would blend my enthusiasm for (hydraulic engineering) and people. Teaching is a great opportunity to learn from other instructors and students who come from different backgrounds."