Colorado Brings Outdoor Winter Dining Concept to Reality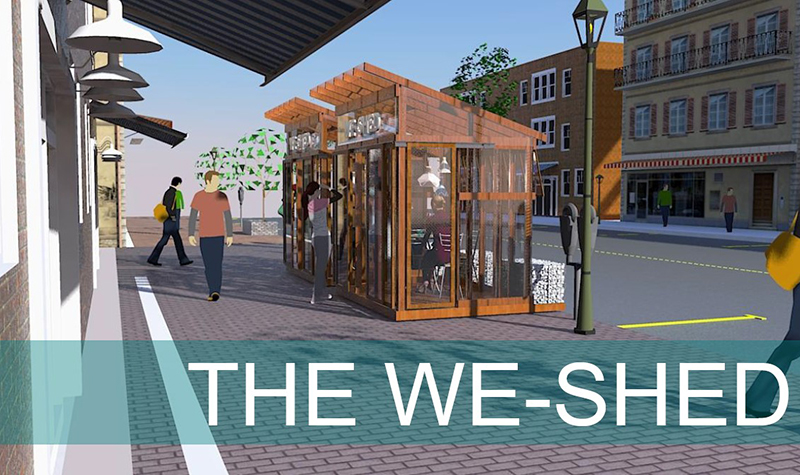 Illustration courtesy of Winter Outdoor Design Workshop Charette Team
As the COVID pandemic stretched from spring to summer, the warm weather gave struggling restaurant-owners an option to maintain and, in some cases, increase their seating capacity by bringing their patrons outdoors. While the summer weather allowed some restaurants to take advantage of their existing outdoor dining space, other businesses worked with local municipalities to create new outdoor seating to help maintain customer traffic as they faced capacity restrictions. Unfortunately, as much of the nation settles into the cold winter months, restaurants are now losing their outdoor dining space just as capacity restrictions are growing along with the surge in COVID cases.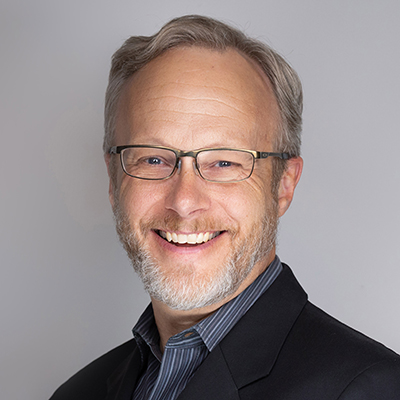 About the Expert:
David Land, LEED AP, has collaborated with an array of local, national, and international consultants, client teams, and sector experts to steward detailed design and implementation. David has been involved in planning, design, and construction administration for numerous complex site projects spanning civic, residential, retail, educational, brownfield, and sports and recreation spaces.
But thanks to some ingenuity and resourcefulness, Colorado communities have risen to the challenge and are developing innovative ways to support our restaurants in their time of need. This past October the Colorado Restaurant Association held an Outdoor Winter Design Workshop, bringing together nine multi-disciplinary teams to develop creative solutions for outdoor winter dining.
The workshop was sponsored by the American Council of Engineering Companies (ACEC) of Colorado, the American Institute of Architects (AIA), the Associated General Contractors (AGC) of Colorado, as well as other design and construction professionals, public health officials, representatives from local fire departments, building officials, and restaurateurs. During the workshop, teams were assigned a specific outdoor space type and geography and asked to consider safety, cost, permitting, regulations, ease of implementation, and the comfort of the guest as they create their concepts.
What is a We-Shed?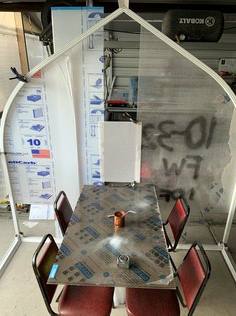 Early design mock-up by the manufacturer using a table setting and greenhouse frame.
As a workshop participant I was fortunate to be involved in the charrette and this important community effort. Teams, comprised of a mix of professionals, developed practical solutions that could be quickly implemented. Our team's concept, the "We-Shed," was based around the idea that we are all in this together, and we can work as a team to develop community-based solutions that happen right away and then stay in the community for longer-lasting benefits.
The team developed this informational brochure specifying what is involved in the purchase, design, and use of the We Shed concept, including materials, construction methods, potential permitting issues, estimated cost, and heating and lighting options. Once the cold weather or COVID pandemic subsides (whichever wanes first), the We-Sheds can remain part of the community, with the ability to be reused by schools as greenhouses, local organizations for community gardens, or by communities at bus stops needing shelter (to name a few potential reuses). Or the restaurant might decide to keep the structures for themselves to provide cabana-style dining, grow herbs, or rent out to local vendors as a "pop-up" retail space.
Ideas, Grants Plant Seeds of Survival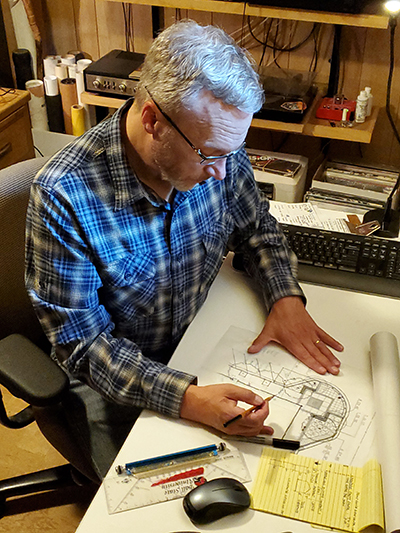 David working on winter restaurant adaptions.
Ayres has also been working with the Town of Windsor, Colorado, over that past few months to enhance three of the Town's existing outdoor seating areas on Windsor's Main Street. We used Colorado Department of Transportation (CDOT) grants to buy site furniture to formalize the temporary outdoor seating measures that had been set up quickly at the start of the pandemic. It became apparent that something like our We-Shed concept could be a great addition to these other initiatives and would help with additional seating capacity for the restaurants as the temperatures dropped.
Consequently, the Windsor Downtown Development Authority has used the We-Shed concept to help them secure a $50,000 grant for implementation of the work. Using the We-Shed as a basis for design, Windsor and Ayres are currently working with a Denver-based greenhouse company to quickly finalize and place an order. The current plan is to consider installing six to eight units in late December. Yet, just like everything else during these challenging times, conditions are continuously changing, requiring the team to be flexible in its approach. Supply chain disruptions are extending lead times for many products and materials.
The We-Shed concept is an example of how a diverse group of professionals can work together to create innovative solutions that rise to meet today's challenging environment. As these difficult times are bringing their share of challenges, this is just one example of how innovation and creative thinking can bring about new opportunities.
For more information regarding the We Shed concept or for more general questions, please reach out to David Land or any of our landscape architecture experts.