How to Make a Kayak/Canoe Launch ADA-Compliant
"And now I sign legislation, which takes a sledgehammer to another wall, one which has for too many generations separated Americans with disabilities from the freedom they could glimpse, but not grasp. Once again, we rejoice as this barrier falls for claiming together we will not accept, we will not excuse, we will not tolerate discrimination in America."
– President George H.W. Bush, at the signing of the Americans with Disabilities Act (ADA)
Communities looking to boost access to their waterways are turning to kayak/canoe paddlecraft launches as a way to improve quality-of-life offerings to residents and visitors.
Making these public launches accessible to all users – meeting requirements of the Americans with Disabilities Act (ADA) – is an important element of the design.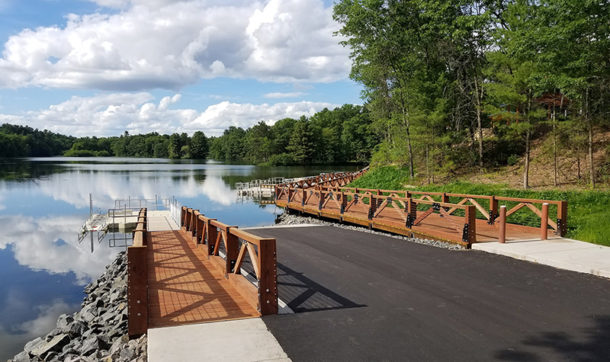 Improvements to Erickson Park in Chippewa Falls include an ADA kayak/canoe launch that features a gently sloping ramp down to the launch.
Kayak/canoe launches often consist of at least one floating structure connected to land by a ramp. The structure can be built as a permanent, year-round fixture or designed to be removed and stored in winter months.
Seven Design Features of an ADA Accessible Kayak/Canoe Launch
Gangway slope:

If a ramp drops down to the launch site, it needs to have a modest slope to meet ADA guidelines. The ramp should have 1 foot of length for every inch it drops. Water levels often fluctuate, and gangways allow the system to accommodate the water level change.

Handrails:

To assist users, handrails down the gangway need to be 36 inches high.

Ample room:

The deck of the launch site should be big enough to accommodate wheelchairs, watercraft, and other equipment.

Step-down bench:

In the middle of the floating launch structure is a bench with transition steps so users can work their way down to the kayak. The transfer bench is often made out of stainless steel, which allows the user to slide along each step. Each step is a small drop down. One of our innovative designs yet to be constructed uses large limestone blocks as the transfer bench.

The plank:

At the end of the bench, a plank slides out over the top of the kayak to provide additional support and allow the user to ease straight down into the kayak.

Moving the vessel:

Launch decks are often made of composite decking materials for low maintenance and scratch resistance. In the loading area, the kayak or canoe is supported by either rollers or underwater saddles that hold the vessel steady while the user is getting situated into the vessel.

More handrails:

Additional handrails near the water allow users to work their way down the launch to open water.
Communities Turning to Popular Kayak/Canoe Launches
The accessibility features make the launch system safe and easy to use for users of all ages and abilities. The equipment and components are designed with materials that are low maintenance and have a long life expectancy, helping to minimize overall lifetime costs.
Ayres' design of Menekaunee Harbor Park in Marinette, Wisconsin, includes an ADA kayak/canoe launch.
Kayak use has exploded in popularity in recent years. The crafts are affordable to own, are easy to transport and operate, and provide a leisure activity that all can enjoy. Our experience has shown that launch facilities are a very desirable amenity in public spaces, and they draw users to the area.
Each project varies based on location, habitat, marine conditions, and the needs of users. For more information on adding a kayak/canoe or other boat launch to your community, contact Craig Schuh.