Climate Change Intensifies Stormwater Challenges
By Karen Menné-Jacobsen
April showers have long been celebrated for their delivery of May flowers. But due to the Earth's relentlessly changing climate, showers and snowstorms that occur every month of the year are doing so at increasingly torrential rates. And that poses significant challenges related to stormwater and how to handle it.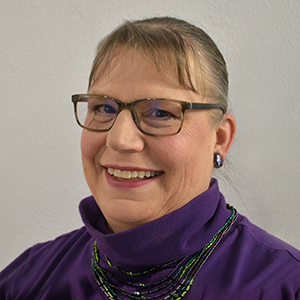 About the Expert:
Karen Menné-Jacobsen, PE, CFM, has years of experience with water distribution, sanitary sewer collection, grading, and stormwater design. Karen has provided project coordination and civil design services for consultants, large municipalities, small villages, flood control agencies, and tribes. She is very familiar with stormwater quality best management practices and the National Pollutant Discharge Elimination System.
The Wisconsin Department of Natural Resources (WDNR) defines stormwater as "rain and melting snow that flows off building rooftops, driveways, lawns, streets, parking lots, construction sites, and industrial storage yards." Most of this water doesn't seep into the ground but instead pours into storm sewers and pipes.
In undeveloped rural areas, most rain and melting snow seeps into the ground and evaporates or finds a natural path into rivers, streams, and lakes. Along the way any pollutants can be filtered out, thereby protecting waterways and groundwater.
In urban areas, a certain amount of stormwater coming from homes and businesses is funneled directly to municipal wastewater treatment plants, where it may be salvaged for reuse. But most stormwater that falls in cities and towns flows into the catch basins and drains commonly seen in parking lots and along street curbs. From there this far greater volume of precipitation enters sewers and pipes laid deep below the streets and empties into nearby waterways.
Stormwater Poses Pollution Problems
While that may seem like a satisfactory method for handling stormwater, inherent problems exist that are becoming more vexing as climate change causes storms to become increasingly frequent and intense.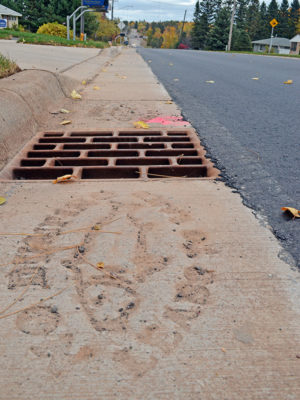 Those problems center on the reality that as stormwater flows into city drainage systems it gathers a wide range of pollutants – everything from gasoline, oil, and road salt to lawn pesticides, chemicals and paint, and an endless assortment of other forms of trash.
These contaminants threaten to pollute waterways both large and small. In fact, according to the WDNR, "Contaminated stormwater is the most significant contributor of pollutants to Wisconsin's urban waters today.
These types of pollutants can harm fish and wildlife populations, kill native vegetation, foul drinking water supplies, and make recreational areas unsafe and unpleasant."
Ayres Aids in Stormwater Mitigation Nationwide
In recent years Ayres has assisted communities around the country in dealing with stormwater-related issues.
In the Town of Naturita, Colorado, Ayres completed a drainage master plan after the community endured back-to-back flooding disasters during the summer of 2016, disasters that had been preceded by three years of unprecedented rainfall in what historically had been an arid region.
Emergency flood damage repair and replacement design services provided by Ayres allowed the Naturita community to restore its stormwater infrastructure to its previous level of flood protection, bringing the Town to the point where it could plan long-term restoration and mitigation work.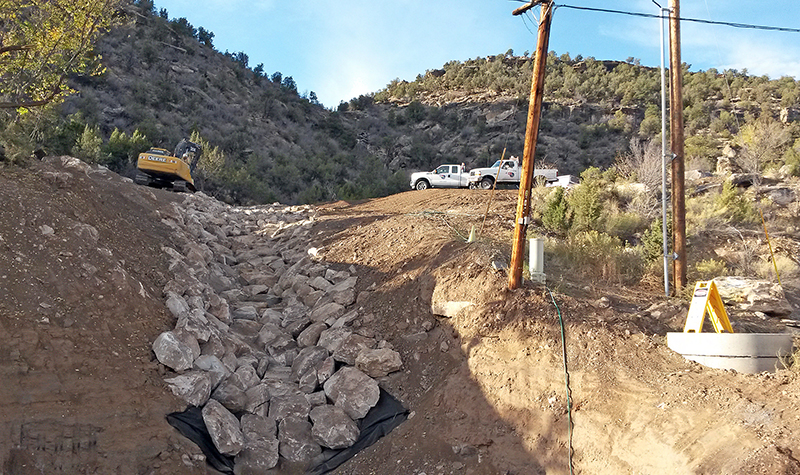 Repairs included stormwater pipe installation replacing an existing culvert crossing structure and constructing a new emergency drainage system that includes a spillway of partially grouted riprap.
Also in Colorado, the Town of Jamestown chose Ayres to prepare a drainage and stormwater management master plan to identify and prioritize risks and problem areas. The plan identified trouble spots such as undersized culverts; areas in need of a storm sewer collection system; and areas prone to heavy erosion, mudslides, and debris flow. Stormwater quality and management strategies were included in the long-range plan that identified priority stormwater mitigations projects to execute as funding becomes available.
"Green Infrastructure" Offers New Solutions
In Green Bay, Wisconsin, an Ayres design used in reconstructing a major roadway incorporated an emerging "green infrastructure" technology to minimize stormwater runoff problems.
The rebuilding of North Webster Avenue, a four-lane road that connects Interstate 43 with downtown Green Bay, included a "depressed median" to separate traffic lanes.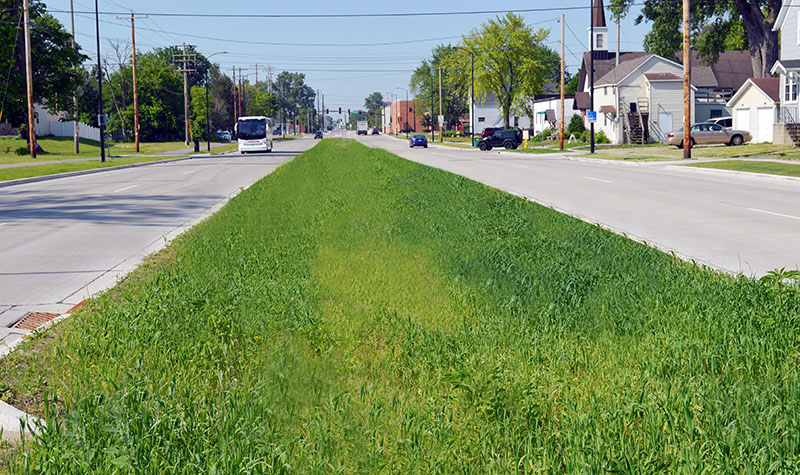 Unlike a standard median, a depressed median also functions as a stormwater collector. Roadway drainage enters the median through curb openings to a flume and then flows to catch basins in the median.
As an environmental bonus, biofiltration through the median's grass and other plantings helps to control the quantity of water collected during a rainstorm, and its "depressed" design allows the median to serve as a bioswale that catches and removes suspended solids from the stormwater.
Public Participation Key to Problem Resolution
In Libertyville, Illinois, Ayres helped implement a program designed to make residents aware of their ability to identify and mitigate stormwater problems on their own properties.
Using aerial mapping, the amount of stormwater run-off from every property in the village was identified. This has helped to make village residents aware of their role in stormwater management.
By showing residents how pollutants enter their local river, lake, and drinking water supply and where stormwater drains from their own properties, they learned to be more careful with waste oil, lawn chemicals, and similar products. This gave them a vested interest in how stormwater was handled, instead of only thinking of it as a nuisance to be dealt with.
Residents also were encouraged to landscape their properties in a way that helps give rainwater and snowmelt a safe place to go. And a "disconnect the downspout" campaign was started to encourage property owners to divert downspouts from the municipal stormwater system to rain barrels, swales, and other means of storing stormwater runoff.
Ayres' civil engineers routinely incorporate stormwater management systems into their designs as well as provide stormwater master planning, erosion control plans, and more stormwater-related services.