Bike Lanes, Intersection Improvements Can Change Urban Barrier into Friendlier Corridor

While heavy traffic is part of living in the big city, communities need not sit idly by as their arterial streets become unnecessarily clogged by outdated technology – or begin to feel like dangerous canyons that pedestrians and bicyclists fear to even attempt crossing. Traffic engineers hold the key to streets where shared use by motorists, trucks, pedestrians, bicyclists, and mass transit leads to more orderly traffic flow. That gives everyone their turn to use streets that act as connections, not great divides slashing neighborhoods in half.
Communities looking to preserve a high quality of life are well-advised to create walkable, bicycle-friendly thoroughfares that increase residents' mobility. The challenge is to develop a consensus design that meets community stakeholder concerns while creating a safe street for all users.
The calculus of street and traffic design – along with the subtleties of calming landscape architecture – can deliver a dramatic change in the way users experience a street and ultimately how humans function, interact, and move through intersections.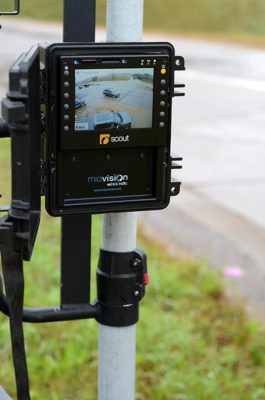 An urban street's characteristics are indicative of the community it traverses. Each user requires a different level of treatment to feel safe and accommodated on an urban street. For example, at signalized intersections, traffic engineers incorporate accessible pedestrian signals to make sure people can cross a road safely. For bicyclists, engineers consider bike lanes, bike boxes, and other similar treatments to provide a dedicated area for them to make their way to their destinations.
But urban street design must reflect the actual users. Too often "complete streets" are assumed to mean a street for all. Understanding complete streets is to understand that some intersections and streets will be designed for pedestrians, motorists, and bicyclists, while the predominant user at another location could be large truck traffic. The design should reflect these realities.
Early Steps to Success on Intersection/Bike Lane Projects
It's easy for officials and designers to skip right to ideas and solutions without confirming what the problems are. Before explaining cross-section design alternatives to the public, it is very important to have sound traffic data to evaluate the need for certain design features and what the trade-offs are for traffic operation and safety. Early steps to get the lay of the land include:
Review traffic data from previous planning studies.
Collect peak-hour intersection turning movement counts at selected neighborhood streets.
Conduct a traffic speed study if speeding is an issue.
Obtain and analyze five-year traffic crash data.
Obtain topographic survey and/or aerial imagery.
Form a project steering committee.
Prepare and evaluate conceptual designs.
Hold public engagement meetings.
Facilitate public engagement with a project website, blog, and/or social media.
Elements of Planning and Design Evaluation
Armed with the right data and a healthy dose of public input, the planning and design phases will be successful if you continue to keep stakeholders informed and if you tick these tasks off your checklist:
Identify key design elements.
Identify area generators of pedestrian, bicycle, and vehicular traffic (high-density housing, schools, workplaces, recreational facilities). See where these flows overlap or cross each other.
Identify the need for connections to adjacent trails, bike lanes, bike routes, transit routes, etc.
Restore or replace flawed street pavement to allow for quality pavement marking installation.
Plan for pedestrian and Americans with Disabilities Act accommodations.
Maximize pedestrian safety through the use of bump-outs and Rectangular Rapid Flashing Beacons (RRFBs)
Maximize bicyclist safety with bike lanes, sharrow pavement markings, and bike boxes. Preserve on-street parking where possible.
Preserve on-street parking where possible.
Design for traffic safety and optimized traffic operation.
Implement arterial traffic taming and speed control.
Implement traffic calming and taming measures to reduce neighborhood cut-through traffic, where appropriate.
Engage a landscape architect to exploit opportunities to increase green space and create social interaction spaces.

Potential Project Funding Sources
Chances are, a community won't be able to finance a quality project without asking the right agencies for help. Community officials – or their consultant – should know the ins and outs of the available transportation, stormwater, and landscape architecture grant and loan programs, which helps determine whether to spend resources pursuing them:
Transportation
Transportation Alternatives Program (TAP)
Surface Transportation Program Funds (STP-Urban)
Congestion Mitigation and Air Quality (CMAQ)
DNR Recreational Trail Program
People for Bikes
Bus and Bus Facilities Program
State Infrastructure Bank Program
Stormwater Management
Clean Water Fund
Urban Nonpoint Source and Stormwater Grant Program
Community Development Block Grant Program
Public Art and Culture
Community National Endowment for the Arts (NEA)
Our Town Placemaking Grants
Looking for more information? Reach out to any of our traffic engineering experts!