Accessible Sidewalks Serve All Users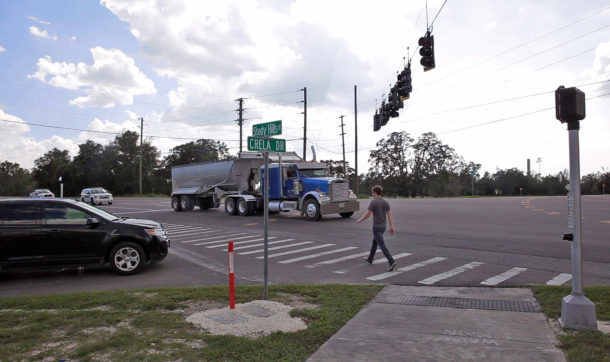 As simple as it seems, the design of good sidewalks requires a fair amount of technical consideration. Generally we think of sidewalks as a type of transportation infrastructure – a way to get where we're going on foot – and we tend to overlook the regulations that keep our sidewalks safe and accessible for all users.
To create communities that address the needs of all people, specifically those with disabilities, the Americans with Disabilities Act (ADA) was signed into law on July 26, 1990. The ADA mandates that public facilities and services be fully accessible, safe, and easy to use for people in wheelchairs and others with disabilities. It has specific guidelines for the slope of sidewalks and curb ramps. A state may have stricter requirements than federal law dictates, but it may not have less stringent accessibility rules.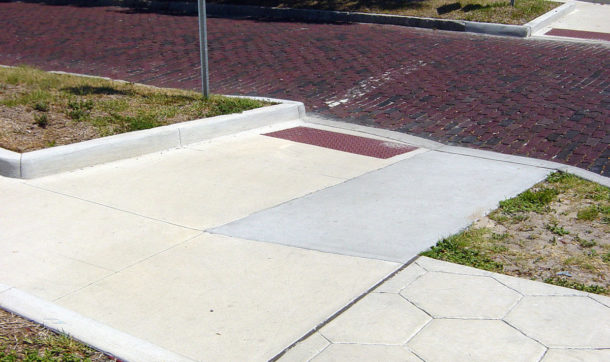 A curb ramp is a short ramp that cuts through a curb to provide an accessible route that people with disabilities can use to safely transition from the sidewalk to the roadway (or vice versa). Curb ramps are only one of the components of accessible routes. Sidewalks must also comply with ADA requirements for clear width, running slope, cross slope, turning spaces, passing spaces, changes in level, required landings, edge protection, etc. When a sidewalk meets a street with a curb, a curb ramp enables users to descend to street level. At intersections, two curb ramps are preferred at each corner, with one facing across one street and one facing across the other. However, sometimes there is not enough room to put in two ramps at a corner, or some communities prefer having one ramp instead of two. In those cases, if regulations allow, one ramp is placed on the corner, pointing toward the center of the intersection.
A correctly designed and constructed sidewalk will enable a person with a disability to safely cross a street and properly board and exit public transportation.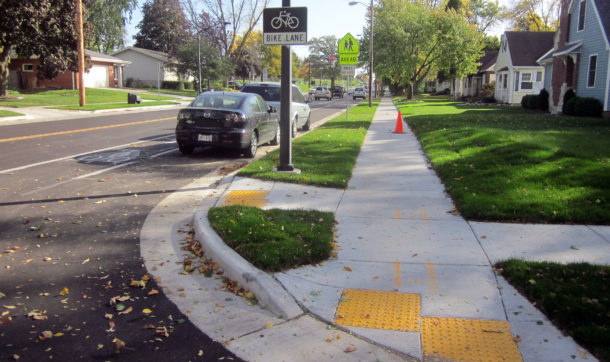 Although curb ramps improve accessibility for people in wheelchairs, they can be problematic for the visually impaired, who may depend on a curb to let them know where a sidewalk ends and a road begins. ADA rules require 2-foot contrasting-color warning strips with raised domes at the bottom of new curb ramps to warn the visually impaired about the presence of a street. Different materials and construction methods can be used for the detectable warning strips.
When existing ramps do not meet ADA criteria, it is difficult to reconstruct ramps to meet all the criteria in areas with limited right-of-way or existing obstructions. Construction itself can be challenging, as ADA-conforming pedestrian paths need to be maintained when existing sidewalks may be altered, blocked, or made impassable for some reason.
Despite the challenges, these design modifications often benefit the population at large, helping people who use wheelchairs as well as people with strollers and carts. Accessibility means many things to many different people, but designing a sidewalk that complies with the regulations of the ADA improves mobility and safety for everyone.
For detailed information about the transportation services offered by Ayres, visit our Transportation Engineering Services Page.