Sagging Saga: State Sums Up Bridge's Dip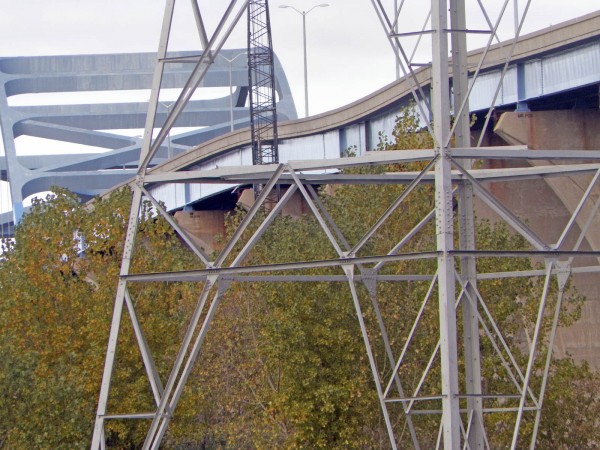 The Wisconsin Department of Transportation (WisDOT) has released a draft executive summary of its report on the sagging of Green Bay's signature bridge, the Leo Frigo Memorial Bridge, which carries traffic on Interstate 43 over the Fox River near the bay.
When a section of the bridge dipped about 2 feet a year ago on September 25, Ayres Associates was quick to respond to WisDOT's call for help. Ayres provided survey crews to monitor the bridge's piers for more settlement throughout the construction of repairs. The bridge opened to traffic on January 5, just a little over three months from when 911 calls came in reporting the problem.
Ayres assisted WisDOT in setting up an automated monitoring system involving attaching a total station and prisms to the piers. This system (shown at right) provided consistent measuring of the piers to monitor any changes that may indicate failure. Surveyors also helped WisDOT with construction staking for the temporary shoring towers and caissons that provided support for the bridge repairs.
WisDOT's summary of its report says subsurface investigations determined that severe corrosion of the steel piles in the foundation that supports Pier 22 was the reason for the bridge's sagging. The corrosion was caused by industrial fly ash fill and other contaminants in the upper layer of soil in contact with the piles.
Electrical probes are being used for continuous monitoring of the corrosion at the piers.
WisDOT said repairs cost $10 million, less than the original estimates of up to $20 million.
"It's amazing that the structure still stood after September 25 after seeing that," Tom Buchholz, WisDOT project manager said at the news conference announcing the release of the summary report. "We're very, very lucky."
For more information about the repair project, check out this video showing truss installation in October 2013 and a news report from WLUK-TV Fox 11 in Green Bay. And for more information about Ayres Associates' survey services, click here.