Road Closed — But Engineers Are On The Scene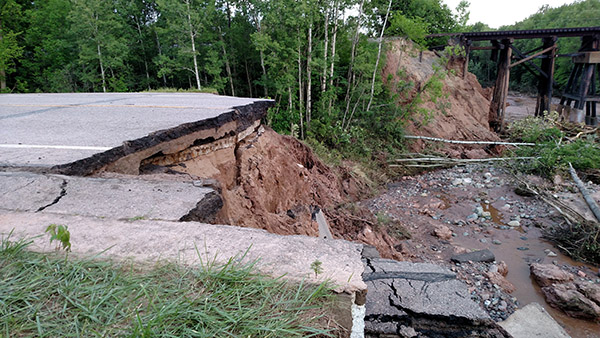 The culvert that carried Trout Brook under STH 13 at North York in Ashland County, Wisconsin, was washed out July 11 after torrential rains hit the area.
By Jeff Abramson, PE
"All the roads into Mellen (Wisconsin) were closed this morning from washouts and bridges gone."
That daunting line in an Associated Press report on July 12 tells how quickly roadway conditions can go from good to seriously bad when 8 to 12 inches of rain fall in just a few hours, as happened recently in northwestern Wisconsin.
I've been working with the Wisconsin Department of Transportation's Northwest Region and counties within the Region for more than 20 years, and I've never seen devastation like what happened in mid-July.
When roads and bridges disappear in a flash, life for those in the public and private transportation industry becomes a mad scramble of phone calls and site visits in an effort to quickly assess the damage and figure out what needs to be done to rescue those in need, keep people safe, and get travelers where they need to go.
County workers hurried to put up "Road Closed" signs and establish detour routes. These "Road Closed" signs are there for a reason and should never be ignored either by vehicle or foot. Our staff witnessed people taking great risks by walking to the unstable edge of a washed-out road.
Work began almost immediately among consultants and state, town, village, and city officials to get as many roads open as quickly as possible. Construction engineers from consultants and WisDOT are on site during the rebuilding process to ensure that these roads and bridges are built to specifications and are safe for travel when reopened.
Getting information to the public is a vital part of the process. State officials have been using WisDOT's website, the Northwest Region's Twitter account (@WisDOTnorthwest), and the Wisconsin Emergency Management website to keep the updates flowing. Counties and other government entities have been posting their updates as well, including this helpful map provided by Bayfield County, showing the location of more than 60 road closures in the county.
Box culverts at two sites along a stretch of State Highway 13 in Ashland County were washed out in the flooding. We were already designing a replacement for one of them before the washout occurred, and an emergency replacement for the second has been added to our project. We had surveyors on the scene within two days, and we're accelerating design to get both open before the end of the year.
The "official" detour for Highway 13 takes you on Highways 77, 51, and 2 to get from Mellen to Ashland, adding more than 50 miles to a normal trip of 25 miles. However, because detours are limited by road classifications (state roads can't be detoured to county roads; county roads can't be detoured to town roads), the official detour is not always the route taken by local traffic. These detour rules are in place mainly to keep large trucks off smaller roads that would be extensively damaged by heavy semitrailer trucks.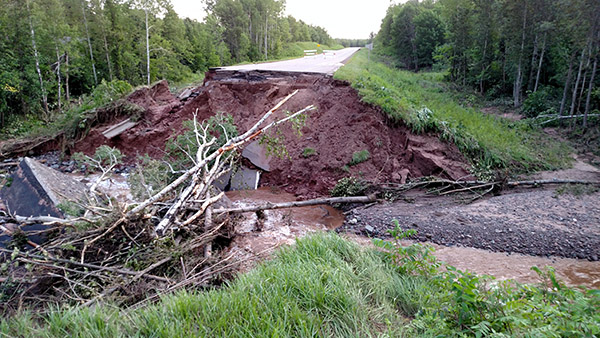 Trout Brook flows around the culvert that washed out July 11 under STH 13 in Ashland County, Wisconsin. Ayres Associates is designing a bridge on an accelerated schedule to get traffic flowing again by the end of the year – and to increase the amount of water that can flow under the highway during heavy rain events.
The closure on Highway 13 comes to an area that depends heavily on tourism this time of year. Almost 3,000 vehicles travel this stretch of road per day through Wisconsin's north woods.
Our aerial mapping group looked at the washouts from a geospatial perspective in a separate blog post. Our experts were promptly on the scene of the Highway 13 washouts and were able to use terrestrial lidar to get an immediate measurement of how much material the flood washed away – critical information for the process of designing the bridges that soon will replace the washed-out culverts.
It's been an interesting time since the flooding hit but one I'm hoping not to repeat for the rest of my career.
Jeff Abramson, PE, is a manager of transportation services at Ayres Associates. For more than 23 years he has worked on projects with many of the counties and communities affected by recent flooding.