6 Reasons to Hire a Registered Professional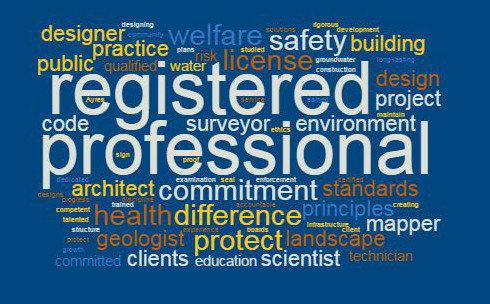 Why hire a registered professional? What difference does it make that your engineer, architect, geologist, landscape architect, surveyor, mapper, or soil scientist has a professional license?
It makes all the difference if you want your project to be safe, long-lasting, and built to code.
Arizona legislators introduced a bill earlier this year seeking to abolish state licenses for certain professions, including geologists and landscape architects. Those backing House Bill 2613, which would also affect licensing for food-packing contractors, driving-school teachers, yoga instructors, and assayers, say that licensing can reduce competition and affect job growth.
Arizona geologists and landscape architects turned out in force to testify against the legislation, and changes have been made that maintain state registration requirements for those professions. However, no final vote has been taken, and Arizona professionals continue to monitor the legislation's progress.
The danger of de-registering professionals like geologists and landscape architects is the potential negative impact on the environment we all rely on in daily life. Clients of an unqualified yoga instructor might end up with pulled muscles, but clients of unqualified geologists, landscape architects, and other design professionals could end up with tainted drinking water, a public safety hazard, boundary disputes, or a collapsed building.
While some see licensing as an added expense or unnecessary hurdle, most understand that professional licensing is key to protecting public health, safety, and welfare. Those words show up over and over in the code of ethics or principles of practice for design professionals of every type. Here are six reasons to hire a registered professional:
1. Registered professionals are competent. A license is proof that your consultant knows what he/she is doing. Licenses aren't for sale; they are earned through education and experience, culminating in a rigorous examination. And it doesn't end with the initial license; professionals need to keep up with their professions through continuing education, periodically completing professional development hours to remain licensed.
2. Registered professionals know their limits. A licensed professional is committed to practicing within his or her specific area of training and practice. That means the licensed individual who designs your building or bridge or park or water system is qualified to do so and isn't dabbling in a field he or she hasn't studied and trained in.
3. Registered professionals are accountable. The boards that license individuals have enforcement powers that can discipline an individual for not meeting minimum standards and for designing something that could put the public at risk.
4. Registered professionals watch out for the public. Licensed professionals aren't just paying lip service to protecting public health, safety, and welfare. They walk the walk. A professional geologist may be all that stands between a community's groundwater and a potential source of contamination. A professional landscape architect coordinates all the elements of a site to reduce crime and avoid injuries, not just to make it look nice.
5. Registered professionals watch out for their clients. Registered professionals are committed to minimizing risk for their clients. For example, one of our architects was recently asked to do a code study for a commercial structure – after the client was halfway through construction of a project developed by an unlicensed designer. A building that doesn't meet code may not be safe and may not be allowed to be used until it is brought up to code; that means a loss of time and money for the owner. Starting with a registered professional from the beginning helps to prevent costly errors and oversights and makes sure a project can be completed and used as intended.
6. Last but not least: It's the law. States require that a design professional (engineer or architect) registered in that state sign and seal the plans for almost any project.
Our business is providing professional consulting services relating to the physical environment. We are dedicated to creating solutions for our clients' needs in the areas of facilities, infrastructure, and the environment. Ayres Associates has 133 registered or certified professionals on staff in all areas of practice, and they are supported by dozens of talented technicians.
Our technical staff are encouraged to obtain registrations as soon as they are qualified to do so. Registration is a major step on the career ladder for our staff. It shows their commitment to doing what design professionals do best: protect the public health, safety, and welfare.
If you have questions about professional registration, contact Executive Vice President Jan Zander.