Voigt Retiring from Ayres, Keeping One Foot in Traffic World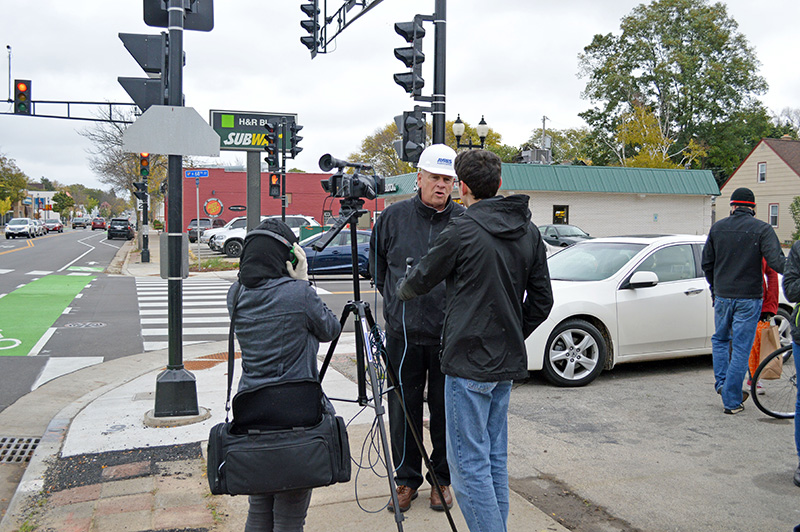 Voigt is interviewed about bicycle and pedestrian accommodations along North Avenue in his hometown of Wauwatosa, Wisconsin.
Today officially marks the day Ken Voigt, PE, senior traffic engineer, retires from Ayres after 15 years with the firm and 55 years in the traffic engineering world. But anyone who knows Voigt suspects he's not quite done contributing to the traffic engineering and analysis industry, given his continuing ties to the Institute of Transportation Engineers (ITE), the Congress for the New Urbanism, and many other organizations.
Summarizing Voigt's career is like trying to drive (or bike or walk) past every project he has touched over 55 years. That would be quite a road trip – perhaps one that Voigt will embark on in his Mustang convertible.
Suffice it to say that Voigt is a traffic icon, and not the kind of icon that shows up as you navigate with Google Maps. Voigt has conducted traffic safety studies, roadway operation analyses, traffic calming, and neighborhood street system design. He has led numerous focus group sessions to build consensus and to develop a context-sensitive design approach to projects. His public involvement skills made a real difference in how projects were received. One of his most challenging projects was building consensus for improvements along the East Washington Avenue Corridor in Madison.
David Dryer, the City of Madison's traffic engineer, had this to say about Voigt's work on East Washington Avenue: "Ken was instrumental in working with the residents, businesses, and nearby neighborhoods and neighborhood associations. He was able to take all views into consideration, and while not every idea generated by the public made it through the project development stage, the people felt their ideas were given a fair shake."
ITE bestowed its highest individual recognition for professional achievement on Voigt in 2018, electing him to Honorary Membership. Voigt is an ITE past International President and has served as a leader at every level within ITE. He was instrumental in initiating the Collegiate Traffic Bowl and ITE's Journal of Transportation. He's served on the transportation Consultants Council, Sustainability Task Force, and Complete Streets Council Executive Committee. Voigt helped develop ITE's new Strategic Initiatives Plan, the updated Professional Transportation Planner Certification exam, and the Diversity Scholars scholarship program.
Voigt is passionate about designing streets and traffic flow in ways that shape the character of the neighborhoods they serve. And he extolls the need to design streets that preserve safe routes for schoolchildren to reach school and for pedestrians and bicyclists of all ages to reach work, play, or the store. He was lead instructor for classes taught throughout Wisconsin regarding the Safe Routes to School program. He's also been an instructor of Americans with Disabilities Act rules and regulations for the Association of Pedestrian and Bicycle Professionals.
While Ayres is losing Voigt, he has shared his expertise with the next generation of traffic experts, having taught many students enrolled in courses on traffic control and the environmental impacts of transportation systems at the University of Wisconsin-Milwaukee, as well as intersection design and traffic impacts of land development courses offered by the University of Wisconsin Engineering Extension.
Cheers to a transportation icon. Ken, may it be many years before you need help crossing the street.