Transformative Altoona River Prairie Development Wins Another Award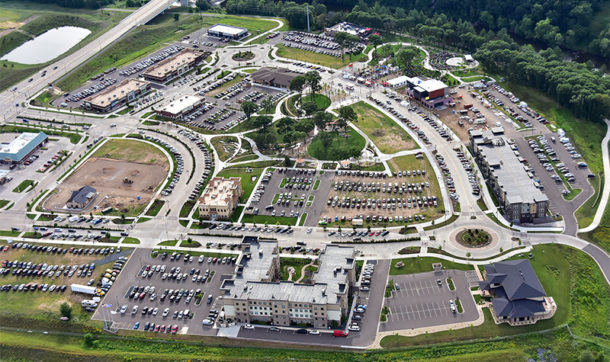 Yet another organization has recognized the transformative River Prairie development, for which Ayres Associates was the prime consultant serving the City of Altoona. The Wisconsin Economic Development Association last week presented its Economic Development Initiative Award to the project.
WEDA says of the project: "Once undeveloped green space, the site is now a thriving commerce district home to numerous businesses and restaurants, as well as a revolutionary public park that includes three amphitheaters, event space, and a cutting-edge playground with its own stream."
The Wisconsin Section of the American Society of Civil Engineers has selected the project for a 2019 Engineering Project Achievement Award in Category C (projects with a construction cost of $10 million to $20 million).
Another engineering organization, the American Council of Engineering Companies of Wisconsin, previously gave Ayres Associates a 2019 Engineering Excellence Best of State Award for its planning, design, and construction administration work on the transformative project along the US 53 bypass.
The City had a vision of creating a place where people could live, work, and play in an environment that took full advantage of the Eau Claire River that flows along the edge of the site. Starting in 2014, Ayres worked hand in hand with the City to bring this vision to reality.
"Ayres Associates recognized the potential of this 40-acre property and shared the vision of the City of Altoona to develop it into something special," said Mike Golat, Altoona city administrator. "From the beginning, Ayres staff took ownership of the project, demonstrating a unique passion that resulted in a quality design that will provide a wide variety of activities for area residents and visitors to River Prairie for generations to come."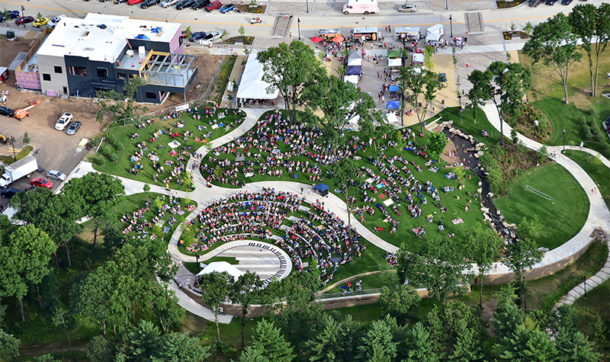 River Prairie demonstrates the value of combining solid engineering site design with deliberate placemaking. A guiding principle from the start was the placemaking concept of the "Power of 10," which states that people are more likely to spend time in a space if it provides at least 10 things for them to do. "The park is designed to continually evolve as the City sees new opportunities," said Lisa Fleming, PE, Ayres' project manager.
As visitors enter the development, the park opens up, providing natural beauty accented by innovative and sustainable landscaping features that reflect the railroading history of Altoona. The public areas include an artificial stream; multiple performance areas and wedding venues; a four seasons plaza, which includes nature-based play elements, casual fire features, and a splashpad; complementary pavilions; and a large multiuse Main Street plaza designed for community events, farmers market, and a breakout area for the new event center constructed nearby. Badminton, pingpong, and kubb spaces are provided. Extensive landscape beds are throughout the development.
To manage increased traffic, two of the four ramps at the River Prairie/US 53 interchange were widened to accommodate dual left-turn lanes – a nine-month design and construction achievement that would normally take two years.