Shambeau Promoted to Manager of Municipal Services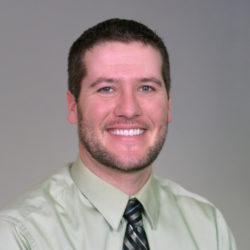 Gareth Shambeau, PE, has been promoted to manager of the Municipal Services Group based in Eau Claire, Wisconsin, effective today. Shambeau, who joined Ayres 11 years ago, takes on leadership of Ayres' municipal services staff based in River Falls, Wisconsin, and St. Paul, Minnesota, as well as those based in our Eau Claire headquarters. His previous role was senior project manager.
Shambeau enjoys working closely with municipal officials as well as private developers on projects that make lasting impacts on their communities.
Shambeau's project management work has given him a strong background in communicating with clients, regulatory agencies, contractors, and subconsultants. He prioritizes building relationships with clients through his focus on responsiveness and honest, straightforward communication.
On the technical side, he has provided analysis and design on a range of municipal, site/civil, and water resources projects. Shambeau has worked on water distribution, treatment, and storage systems; sanitary sewer collection systems; stormwater collection, storage, and treatment systems; local streets; sand mining civil plans; and site plans. His water resources duties have included hydrologic and hydraulic analysis as well as structural design and analysis.
"Gareth checks all the boxes for this leadership position," says Disa Wahlstrand, PE, vice president. "Clients love Gareth's professional, personable partnership with them as he guides them to the right solutions for their unique challenges, and he brings that same thoughtful confidence and passion to his management of our talented group of civil engineers and technicians."
Shambeau holds professional engineer licensure in Wisconsin and Minnesota. He earned a bachelor's degree in civil engineering from the University of Wisconsin-Platteville.