Boltze Promoted to Transportation Manager for Western Region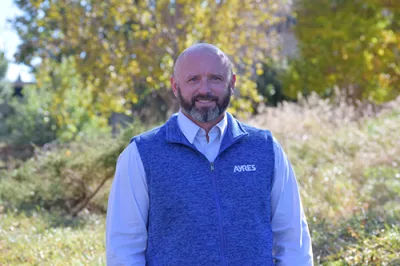 Bill Boltze, PE, is being promoted to manager of Ayres' transportation operations in the West. The promotion takes effect January 1 and will dial up Boltze's role in spearheading growth in Ayres' transportation engineering and construction management services in the region.
As a senior project manager for Ayres for the past two years, Boltze has been responsible for assembling project teams, securing projects, and supervising and training engineers and construction professionals in their professional advancement.
"From Day 1, Bill has been committed to implementing a companywide, multidisciplinary approach in providing solutions to clients that include such expertise as river engineering, survey, aerial mapping, environmental and planning services, and subsurface utility engineering," says Eric Sorensen, vice president of the Transportation Division. "As manager, Bill will build relationships with clients based on helping them with all of their needs, not just their transportation challenges."
Boltze maintains regular contact with local, state, and private sector clients, matching Ayres' deep transportation resources to their needs. He also manages roadway design and construction projects and provides public involvement and pre-construction meeting facilitation.
"As a former small-business owner, Bill has the entrepreneurial spirit and strategic instinct we like to see in our employee-owners, and he has a desire to help those around him to improve as they commit to delivering quality projects," Sorensen says.
Boltze's construction management experience encompasses projects ranging from flood embankment repair to major interstate reconstruction. He also has designed projects from ADA curb ramps to underground utilities to major interchanges throughout the country. His eight years of project experience includes major projects for the Colorado and Utah departments of transportation.
"I want to help our design and construction management team grow and maintain a positive team culture while establishing strong relationships within the company," Boltze says. "One big focus is to promote the Ayres brand as a leading transportation group in the Colorado and Wyoming markets by successfully delivering projects for our client partners."
Boltze is a licensed professional engineer in Colorado and Wyoming and holds a bachelor's degree in civil engineering technology from Metropolitan State University of Denver.