Team of Consultants Helps Keep Bridges Safe From Scour
Ayres Associates and GCI INC, in partnership with Kimley-Horn and Associates, Inc., and STV Incorporated meticulously analyzed more than 1,500 Florida bridges susceptible to scour – the engineering term for the erosion of soil surrounding a bridge foundation – to help the Florida Department of Transportation decide which bridges are candidates for repair, replacement, or protection from scour.
The lengthy project was just awarded the Grand Award in the Florida Institute of Consulting Engineers' 2017 Engineering Excellence Awards program.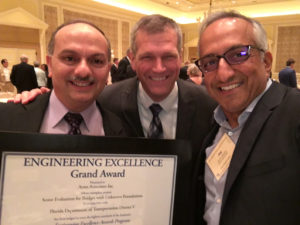 Hisham Sunna, PhD, PE, and Jan Zander, PE, of Ayres Associates along with Jay Saxena, PE, celebrate the FICE Grand Award presented to Ayres and its partnering consultants for innovative work achieved in raising the bar on safety through scour analysis on bridges with unknown foundations.
The analyses also developed innovative and rational methods that advance the state of practice in assessing bridges with unknown foundations. Lead practitioners for the project say the important contributions made by the team will result in safer structures, lead to new standards for bridge evaluations, and help achieve a sustainable environment. The team leaders have presented regionally, nationally, and internationally to disseminate their methods and findings to other consultants, governmental agencies, and academic institutions in the United States and overseas.
The teams completed risk assessment, field investigations and reviews, surveys, non-destructive testing, scour analysis, geo-structural evaluations, and development of scour countermeasure plans of action. Methodologies developed during their efforts add tremendous value to the engineering profession and decidedly advance the state of practice, team leaders say.
One example of the innovations the team pioneered is what's known as the "static/backcalculation" method for pile embedment estimation, which can be used to reduce costly nondestructive testing and assess or validate embedment estimates made by more traditional methods. The team also pioneered an innovative bridge load rating approach. Bridge load ratings are typically assigned based on the superstructure's evaluation. Rarely is the substructure considered. However, such load rating could cause catastrophic results if the substructure's load-carrying capacity is deficient.
The team's methods for unknown embedment and load rating determination have been published in the American Society of Civil Engineers journals, and the application of these methods during this project's contract provides the first known method to rationally assess the substructure load rating and the integrated bridge load rating for superstructure-substructure systems.
The methods developed by the team present sound engineering approaches to assess bridges over waterways while potentially alleviating the need to spend taxpayer dollars on unwarranted remedial measures or bridge replacements.