Tampa Employee Named Young Engineer of the Year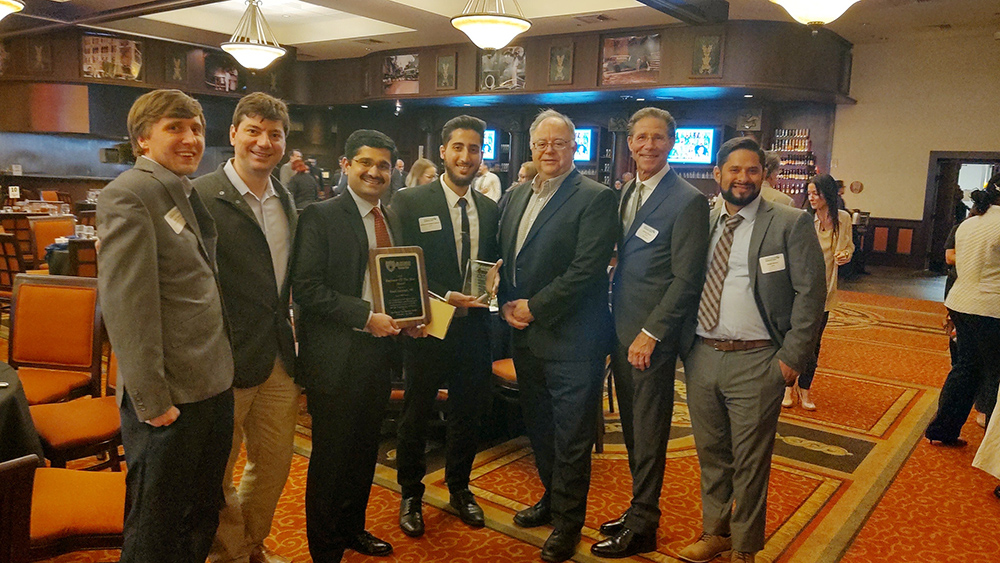 Mohamad-Waleed Gebarin, PE, (center) with his award.
Mohamad-Waleed Gebarin, PE, a transportation engineer in Ayres' Hidden River office in Tampa, was selected as the Tampa Bay Chapter of the American Society of Highway Engineers' Young Engineer of the Year for 2019.
The award was presented at the Tampa Bay Engineers Week Banquet, an event bringing together local leaders and engineering professionals to recognize the outstanding achievements of engineers, science teachers, math teachers, and students.
Gebarin received a bachelor's degree in civil engineering from the University of South Florida in 2015. Since graduation, he has had the opportunity to work on the two largest design-build projects in the Florida Department of Transportation's District 7 – Gandy Boulevard and Gateway Expressway. Both are high-complexity resurfacing, restoration, and rehabilitation projects involving multi-modal facilities.
His responsibilities at Ayres include leading design efforts on aspects of roadway and multimodal projects, assisting in project management, and providing training on 3D Open Roads corridor modeling.
Gebarin recently passed his professional engineer exam and is a registered professional engineer in Florida.
"Since Mohamad has been with our group of transportation professionals, he has notably increased our abilities to efficiently produce quality documents for our clients," said Project Manager Jeffrey Siewert, PE. "He was the lead design engineer on a recent 'complete streets' project where the schedule was compressed by several months. We were able to complete the project within the time allotment, maintain quality, and keep our client's time commitments to the local community."