Done by the Bell: Campus Projects Demand Punctuality
The renovation of the Falcon Center for Health, Education, and Wellness was the largest project in the history of UW-River Falls and had an extremely complex schedule to be completed on time.
For architects and engineers, "back to school" doesn't just mean shopping for pencils and checking class schedules. It means having the school and campus open on time. Renovations and big repairs on schools and universities are almost always scheduled for summer, when fewer students are around, and making sure the important parts are up and running when students return can get pretty complex.
Staging a project in phases helps keep things moving along, and it even allows employees and summer students to keep working. A staging plan can be as simple as a few notes on a plan sheet, or so complicated that it requires dozens of notes and shaded plans on multiple sheets. For an in-depth look at an enormously complex and scheduled project, check out this profile of an athletic center on a university campus in Ayres' TRENDS magazine and in Athletic Business.
How do tasks get prioritized?
Large projects often involve a variety of consultants and contractors, so communication is vital. Each contractor has its own approach, so it helps to present big-picture requirements on the plan, such as when utilities need to be in service, when pedestrian walkways need to be open, and what signage is required. In northern climates, architects and engineers also need to account for weather. Most outdoor work can't begin in spring until after the ground thaws and has to be finished before wintry weather sets in, and piped-in steam to heat buildings is important to have in place by October.
Construction phasing keeps many pieces moving, especially if the campus needs to remain open during construction. Click the graphic for a full picture of the scope of the River Falls Falcon Center project.
With the big milestones in place and deadlines agreed on, each contractor can then coordinate and adjust as needed to fit in with project sequencing and operations. Even with a plan, however, there are still many calls, emails, and meetings to keep everyone on the same page.
What if students/workers are around during construction?
Architects have to be aware of the project schedule and all the systems that serve the space, such as heat, air conditioning, ventilation, IT, water, power, sanitary lines, and storm lines. Old systems need to stay in operation until the new one is ready to take its place, or until the client's schedule allows interruptions. Students living on campus during construction season certainly appreciate a constant supply of hot water for showers!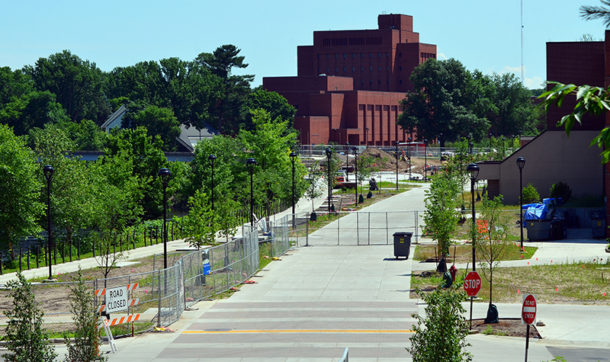 The second and final season of construction on the UW-Eau Claire Garfield Avenue improvements project is in full swing. Work includes reconstructing some 1,800 linear feet of roadway and subsurface utilities. When complete this fall, Garfield Avenue will be a primarily pedestrian and bike corridor, providing more green space and accessibility to the Chippewa River.
Exits need to be available and accessible, and if that's not possible, then consultants and contractors need to plan for temporary exit routes, signs, and emergency lighting. If temporary walls are used to keep people out of a construction zone, those need to have emergency egress as well.
For site engineers, it's often critical to keep pedestrian walkways open so staff and students can get around campus. Plans also need to accommodate access for emergency vehicles.
Campus construction projects have a lot of moving parts; architects and engineers help to make sure the pieces fall into place before the fall semester's books get cracked open. For more information, please contact our architecture and/or civil engineering experts.